The Prince of Wales meets Legion's leather clad Riders
Posted on
Ninety members of the branch brought their bikes to the lunchtime reception hosted by The Prince of Wales. The motorcycles created an unusual spectacle as they were parked up in the garden of Clarence House. The Prince of Wales tried one of the bikes out for size, revving the engine as the owner pointed out some of the bike's finer features.
After the reception The Riders Branch Chairman, JJ Jarvis, said:
"We are honoured that The Prince of Wales has recognised the activities of the branch, including the role we take in paying respects to those who have lost their lives on active duty.
"The branch has over 4,440 members, and although they could not all attend, the recognition received today is for the contribution every one of them makes.
"It was a privilege to meet The Prince, who was very enthusiastic about our work and motorcycling. We left him an open invitation to join the branch as an honorary member anytime."
The branch is the second largest of the Legion's 2,800 branches. Members, including ex and current serving personnel and civilians, are brought together through their passion for motorcycling and support for The Royal British Legion.
Branch activities include fundraising for the Poppy Appeal (£150,000 this year), raising the Legion's profile at motorcycling events and joining with the people of Wootton Bassett to pay respects at repatriations through the town.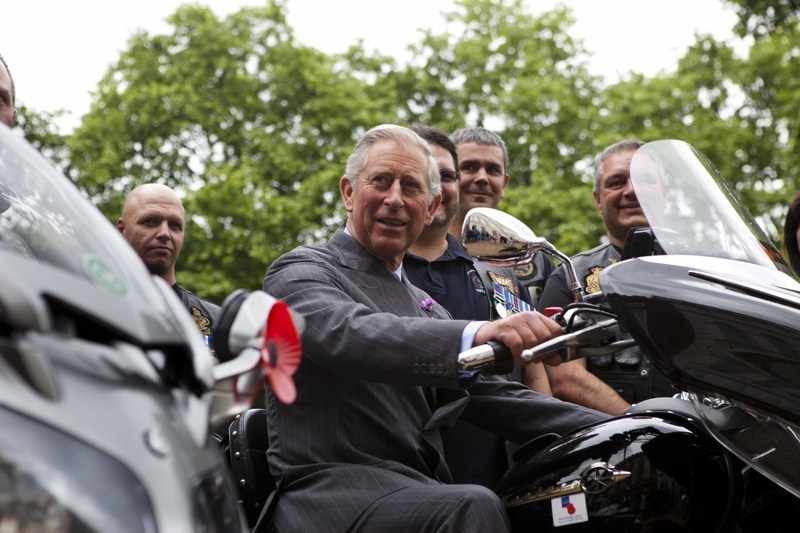 The Prince of Wales tries one of the Riders Branch bikes for size at a reception at Clarence House