Weekly Biker Meet - Friday
If there is any we have missed please forward them for inclusion... Photos always welcome!
Ace Cafe
, North Circular Road, Stonebridge, London, NW10 7UD. From 6pm: 1st Friday of the month; Bike Night, Streetfighters and Dyno. 2nd Friday of the month; Bike Night and Bandits (BOCGB). 3rd Friday of the month; Bike Night, Rockers n' Classics. Last Friday of the month; Bike Night, Performance and Fast Bikes.
Custom Café
, Barnhorn Road (A259), Bexhill-on-Sea, East Sussex, TN39 4QL. Bike night every Friday from 6pm. Check out their facebook page for details on monthly BBQs: Harley riders (and American bike) nite; Hot Rod and Custom nite; Veedub and Audi; modified car nite, etc...
More Coffee Co,
6 Market Place, Melton Mowbray, Leicestershire, LE13 1XD. Classic car and bike meet last Friday of month May-Sept in front of the shop (Market Place) from 5.30 to 9pm. When the meet is on as they have live music and burgers.
Old Rose And Crown
, Worcester Road, Stourport-on-Severn, Worcestershire,
DY13 9PA
. Flat gravel free car park. Motorcycle friendly, all day, everyday. Bikes can be seen from the seating area when parked, so you can keep an eye on your machine. Main menu available inside the pub and ice-cream van at Friday bike meets.
Bike night
every Friday from 6pm, April - October. BBQ serving hot pork rolls, burgers, hot dogs etc. Retro Bike Night feel.
Pitstop Diner
, 9 Talbot Road, Leyland, Lancashire,
PR25 2ZF
. Bike night, every Tuesday and Friday, 6:30pm till 10pm.
The Rockbar
, Shobnall Sports & Social Club, Shobnall Rd, Burton-on-Trent, Staffs, DE14 2BB. Friday night, Rock Disco and sometimes bands. Bar open from 7.30pm. Friendly atmosphere and everyone welcome. Home of
Unwanted MCC
.
Waggon & Horses, Old Frome Road, Doulting Beacon, Shepton Mallet, Somerset, BA4 4LA. Bike Night Friday, all year round.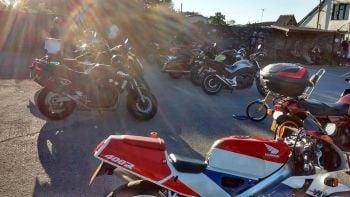 Whitwell And Reepham Station, Whitwell Road, Reepham, Norfolk, NR10 4GA. Bike meet Friday, 5pm - 9pm, March - October. Bar and food facilities. In the summer there can be upto 1000 bikes.
Recommended by Dave Hawkins: "Good parking loads of bikes, good food, beer and cakes".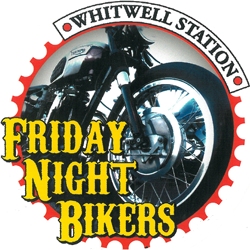 * Please note, that the above list is mainly put together from visitor recommendations and is by no means a complete list of Meeting Places in the areas stated. We encourage visitor feedback and recommendations, so if there is somewhere you have been and would like to tell others about it, then please do.
...
We strive to check listings at least yearly for any updates, closures or change of business. However, we would advise that before you head off to any of those listed for a specific visit that you check ahead - otherwise have a great ride!
...
Weekly Biker meeting place, Biker hangouts, where do Bikers meet, Biker cafes, Biker food, Motorcycle hang outs, Ace Cafe, Ponderosa cafe, Popular Biker places, bikers welcome, bikers are welcome each week, -

jul 17 21