Biker Jokes and other funny stuff
Arthur Davidson, of the Harley Davidson Motorcycle Corporation died and went to Heaven. At the gates, St. Peter told Arthur, "Since you've been such a good man and your motorcycles have changed the world, your reward is you can hang out with anyone you want in heaven".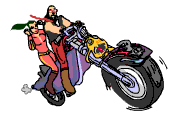 Bikers in Heaven Gabriel came to the Lord and said, "I have to talk to you. We have some Bikers up here who are causing problems. They're swinging on the pearly gates, my horn is missing, and they are wearing T-shirts instead of robes. There's bbbq sauce everywhere, especially all over their T-shirts, their dogs are riding in the chariots and chasing the sheep and they're wearing Cowboy hats and Baseball Caps instead of their halos. They refuse to keep the stairway to heaven clean and their boots are marking and scratching up the halls of wisdom. There are sun flower seeds and hot wing bones all over the place. Some of them are walking around with just one wing. They refuse to walk and insist on bringing their "Hogs" with them."
The Lord said, "Bikers are Biker, Gabriel. Heaven is Home to all my children. If you want to know about real problems, call the Devil."
The Devil answered the phone, "Hello... hold on a minute." The Devil returned to the phone, "Ok, I'm back. What can I do for you?" Gabriel replied, "I just want to know what kind of problems you're having down there." The Devil said, "Hold on again. I need to check on something." After about 5 minutes the Devil returned to the phone and said, "I'm back. Now what was the question?" Gabriel said, "What kind of problems are you having down there?" The Devil said, "Man, I don't believe this ... Hold on." This time the Devil was gone 15 minutes. The Devil returned and said, "I'm sorry Gabriel, I can't talk right now. Those damn Bikers have put out the fire and are trying to install air conditioning."
Three weeks before;
Book hair, nail, eyebrow appointment

Buy hair colour

Search e-bay for new outfit

Look at your womanly physique in the mirror... decide that you need to lose a stone in 3 weeks, so make mental note to do workout, sit-ups, squats, etc, every day

Save small amount of your favourite toiletries, face cleanser, toner, eye make up remover, day cream, night cream, eye cream, factor 15 for the face and factor 8 for the body (the sun WILL come out), body lotion, shower gel, shampoo, conditioner, hair product one (to give it body), hair product two (to make it straight), hair product three (to make it glossy) hair product four (so it does not frizz), hair product five (to keep it in place)
Two weeks before;
Buy new outfit (two of just in case) off e-bay, found using searches such as 'Biker babe', 'biker rally outfit', 'black goth', 'black basque ladies', etc...

Start tan-tastic preparations, scrub flesh and moisturise
The week before;
Dye hair, hair cut, buy new hair product

Eyebrows waxed

Manicure (and pedicure if its summer)

Apply self-tanning creams (unless goth)

Look in shops for a new outfit (just in case you see one you like better than the two you bought last week)
The day before;
Sort out the clothing you are taking into piles

The clothing you are wearing on a hanger

All other items hidden, so that your Victor Meldrew husband does not say "Do you think you are taking that lot for two days!"
The day of;
Face pack, condition hair, shave armpits and legs, apply make up with no mascara (to avoid panda eyes on the way in gail force winds)

Try to pack 10 tops, three pairs of jeans, 3 sets of matching underwear, toiletries (as above), towel (the size of a small country) into small bag

Text mates to see if they are taking hairdryers and/or straighterners as you realise you have gone over your allocation baggage allowance

Moisturise whole body, get dressed putting on extra layers of clothing that you could not fit into small bag

Put extra items you forgot to pack into coat pockets
Men;
Put tent on bike

Take toothbrush if longer than one night

Moan at woman at the amount of luggage she is taking for two nights

Put on 'Rally' pants, club t and leather vest

Go...
The E.U. Safety Council has completed extensive testing on a newly designed seat belt. Results show that accidents can be reduced by as much as 45% when the belt is properly installed.
A man dies & appears at The Pearly Gates.
Stopped for speeding
A rookie police officer pulled a biker over for speeding and had the following exchange:
Officer: May I see your driver's license?
Biker: I don't have one. I had it suspended when I got my 5th DUI.
Officer: May I see the owner's card for this vehicle?
Biker: It's not my bike. I stole it.
Officer: The motorcycle is stolen?
Biker: That's right. But come to think of it, I think I saw the owner's card in the tool bag when I was putting my gun in there.
Officer: There's a gun in the tool bag?
Biker: Yes sir. That's where I put it after I shot and killed the dude who owns this bike and stuffed his dope in the saddle bags.
Officer: There's drugs in the saddle bags too?
Biker: Yes, sir.
Hearing this, the rookie immediately called his captain. The biker was quickly surrounded by police, and the captain approached the biker to handle the tense situation:
A mechanic was removing a cylinder-head from the motor of a Harley motorcycle when he spotted a well-known cardiologist in his shop. The cardiologist was there waiting for the service manager to come take a look at his bike when the mechanic shouted across the garage "Hey Doc, want to take a look at this?" The cardiologist, a bit surprised, walked over to where the mechanic was working on the motorcycle. The mechanic straightened up, wiped his hands on a rag and said, "So Doc, look at this engine. I open its heart, take the valves out, repair any damage, and then put them back in, and when I finish, it works just like new.
This man had what he thought was the best tattoo in the world... Until he went to prison.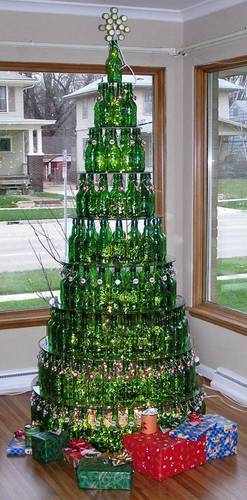 Once upon a time there was a frog who lived in a lake all by himself. He had been given special powers by a local witch. One day he finally ventured out of the lake to get his first glimpse of the world outside. The first thing he saw was a bear chasing a rabbit and so he called out to them and asked them to stop. Then he said to them: "I am a magical frog and since you are the first two animals I have ever seen, I am going to grant you both three wishes. You will each take turns using them and you have to use them now." The bear (being greedy) went first. I would like for every bear in this forest to be female except for me." A magical sound and it was done. Then the rabbit. "I would like a helmet." This confused both the frog and the bear, but after a magical sound there was a helmet. It was the bear's turn again. "I would like for every bear in the neighbouring forest to be female." A magical sound and it was done. The rabbit went again. "I would like a motorcycle." Both the frog and the bear wondered why the rabbit didn't just ask for a lot of money with which he could buy himself a motorcycle, but after a magical sound there was a motorcycle. The bear took his last wish. "I would like for all the bears in the world to be female except for me." A magical sound and it was done. The rabbit then put on his helmet, started up the motorcycle, and said "I wish the bear was gay" and took off like a bat out of hell.

You call your bike your woman
Your best friends are named after animals. i.e.: Otter, Rabbit, Turkey, etc...
Your best shoes have steel toes.
Every left shoe you own has a black spot on it from the shift lever.
You owned three different bikes before you ever owned a car.
You think Easy Rider has held up pretty well after all these years.
When you refer to Captain America, you mean the bike and not the comic book hero.
You know that Marlon Brando rode a Triumph in The Wild One and not a Harley-Davidson.
You also know that it was Lee Marvin who rode the Harley in The Wild One.
Your idea of jewellery is chains and barbed wire.
You watch bike shows on TV while relaxing in your armchair, drinking beer and buying bike gear off the internet.
You can tell what kind of bugs they are by the taste.
You're only sunburned on the back of your hands and neck.
You carry around a crushed beer can in case you have to park your bike on uneven ground.
You pull have bike parts in your house and clean them as if they are ornaments.
You don't know how to turn on the washing machine, but you have four different kinds of cleaners for your bike.
You carry a picture of your bike in your wallet.
You wave at bikers even when you are in your car.
Your three piece suit consists of leather trousers, a leather vest, and a leather jacket.
Your other suit is a rain suit.
You wake up next to your other half and your first thought is if your bike will start.
You plan your holidays to Florida to coincide with the rally at Daytona.
You take your kids for a ride on your bike before they can walk.
You can't remember your kids' names or birthdays, but you can remember that Harley-Davidson made the Knucklehead, Pan head, Shovelhead, Evolution, and Twin Cam 88.
You are currently wearing two or more articles of clothing that have a Harley-Davidson label in them.
Your screen saver on your phone/computer is a Motorbike.
The staff at the Harley store know you by name.
Your tent is blue.
Born to Be Blind - This video says everything about the heart and soul of riding a Harley-Davidson Motorbike! Go see...
Easy Rider - The Byrds - Wasn't Born to Follow Go see...
Harley-Davidson Badass Santa Claus Go see...
I saw you;
• hug your purse closer to you in the grocery store line. But you didn't see me put an extra £10 in the collection plate last Sunday.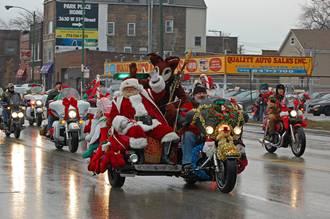 • pull your child closer when we passed each other on the sidewalk. But you didn't see me playing Santa at the local church.
• change your mind about going into the restaurant when you saw my bike parked out front. But you didn't see me attending a meeting to raise more money for the hurricane relief.
• roll up your windowand shake your head when I rode by. But you didn't see me riding behind you when you flicked your cigarette butt out the car window.
• frown at me when I smiled at your children. But you didn't see me, when I took time off from work to run toys to the homeless.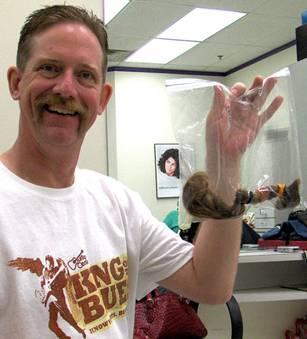 • stare at my long hair. But you didn't see me and my friends cut ten inches off for Locks of Love.
• roll your eyes at our leather jackets and gloves. But you didn't see me and my brothers donate our old ones to those that had none.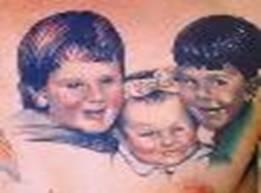 • look in fright at my tattoos. But you didn't see me cry as my children where born or have their name written over and in my heart.
• change lanes while rushing off to go somewhere. But you didn't see me going home to be with my family.
• complain about howloud and noisy our bikes can be. But you didn't see me when you were changing the CD and drifted into my lane.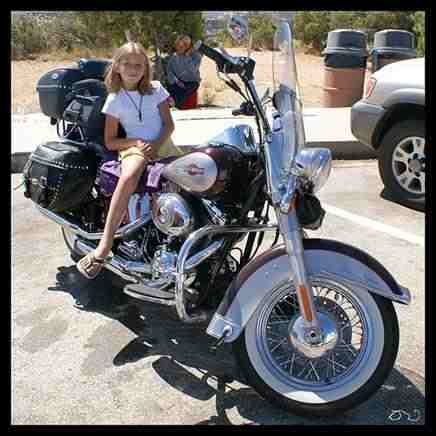 • yelling at your kids in the car. But you didn't see me pat my child's hands knowing she was safe behind me.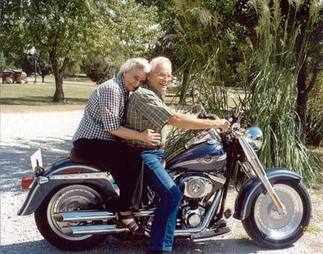 reading the newspaper or map as you drove down the road. But you didn't see me squeeze my wife's leg when she told me to take the next turn.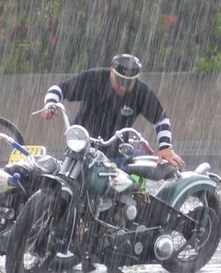 race down the road in the rain. But you didn't see me get soaked to the skin so my son could have the car to go on his date.
• run the yellow light just to save a few minutes of time. But you didn't see signaling to turn right.
• cut me off because you needed to be in the lane I was in. But you didn't see me leave the road.
• waiting impatiently for my friends to pass. But you didn't see me. I wasn't there.
• go home to your family. But you didn't see me. Because I died that day you cut me of...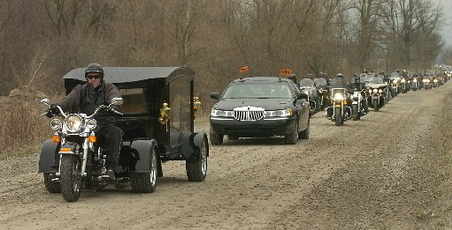 I was just a biker. A person with friends and a family. But you didn't see me.
Norton Commando Transformer - Go see...
Perfect day motorbike road safety advert - Go see...
Portugal Barnfinds - Go see...
Sorry mate, I didn't see you - Go see...
Steppenwolf - Born To Be Wild - Go see...
The Leather Boys (1964): Ace Cafe Burn-Up - Go see...
The Wild Angels (1966) - Loaded - Go see...
Think! Motorcycle Safety - Go see... Motorbike road safety video offering safe biking tips for UK bikers.

1965 Motorycle Road Safety PIF - Look, Signal, Manoeuvre
Not so Easy - A Motorcycle Safety Film

Peter Fonda and the Captain America Bike

Highway To hell (Wild Hogs)

Top 10 Biker Films

Favourite Biker Scenes
Motorcycle scene - The Great Escape, 1963, Steve McQueen
Youth attacks biker in full view at Farmyard Party - 2009 - Go see...

Please e-mail us any 'Biker jokes' you have:

Funny Biker, Harley jokes, Biker jokes,