The Bikers Cove - Winner of the favourite Biker Friendly Cafe in the UK 2021!
Posted on
... as voted for by members of THE BIKER GUIDE facebook group - Biker Friendly Places UK and Europe
The Bikers Cove, are the winner, with 151 votes, 2nd place is Doms Bike Stop with 94 and Pinewood Bar & Cafe are 3rd with 75.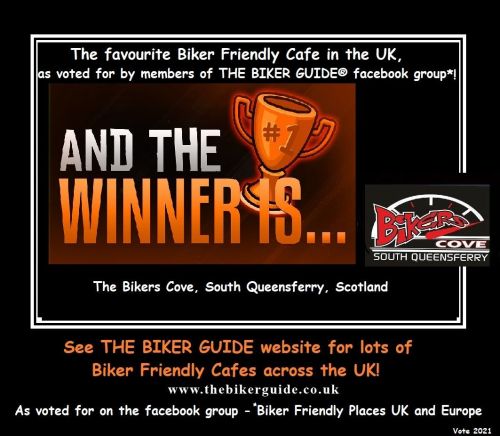 The poll has shown the passion and loyalty cafes in the poll have from their customers, which comes from not just the food served, but also from the lovely owners/staff and the welcome they get!
See the full results below
1st - The Bikers Cove 151
2nd - Doms Bike Stop 94
3rd - Pinewood Bar & Cafe 75
4th - Owls Nest Tea Room Diner 55
5th - Butchers Hook Cafe 37
6th - Squires Bikers-cafe 30
7th - Nell's Cafe 29
8th - Ponderosa Cafe 24
9th - Route 59 Cafe 23
10th - Castle Cafe 17
Super Sausage Cafe 14
The Old Stores Motorbike Cafe 10
The Custom Cafe 9
Seaways 8
The Manor Farm Cafe 7
H's Kent Motorcycles 5
Hungry Hogs At Hillside Cafe 4
Route 1066 Cafe 4
The Nook Cafe 4
Yondermann Café 4
Chequered Flag SW 3
Devils Bridge 3
The Filling Station 3
Whistlestop Cafe, Whitby 3
Loomies 3
Union Road Moto Velo Cafe 3
Strawberry Fields Cafe 3
Choppers Cafe 3

Pitstop Diner, Leyland 2
Zoom Cafe Bar 2
H-Cafe Berinsfield 2
Whistlestop Cafe North Wales 2
Coast Riders Diner 2
Salt & Pepper Cafe, Newcastle 2
The Picnic Bar Tattershall 2
One vote
Billy's on the Road
Hot Tram Roll
Ace Cafe London
Jacks Hill Café
Two Hoots Tea Room
Chain & Sprocket Cafe
Amici Coffee
The Tea Set at The Quiet Woman
Cafe 33
The Pit Stop Diner Stockton
The Green Welly Stop
Blu-Belles Cafe
The Bike Shed
Mavericks Mostyn
Gilks Garage Café
Krazy Horse
Baffle Haus
Ann's Kitchen
The Glen Café
Henrys Cafe
Tan Hill Inn
Route 11 Kitchen
Ryka's Cafe
Chapter 1
Sunshine Cafe
The Honey Cafe
Touchdown Inn Cafe
KOTI Autotalli
Green Hut Café
Iron Horse Ranch House
Seaside Cafe, New Brighton
Well done to all those Cafes who were voted for, whether that was one vote or 150, as we know that many of you are passionate and loyal to places that you frequent.
We hope that people happily accept this vote and not want to storm on THE BIKER GUIDE® HQ, now the results are in.
The poll ran from 19th May to 1st July 2021- 12 noon.
Voting took place on THE BIKER GUIDE facebook group - Biker Friendly Places UK and Europe, via the poll at the top of the page.
Since 2009 we have promoted Biker Friendly cafes, places and meets on THE BIKER GUIDE® website - See THE BIKER GUIDE® website for extensive listings of Biker Friendly Cafes -
www.thebikerguide.co.uk/bikerfriendlymeetingplaces.html