Motorcycle safety campaign Live Fast Die Old launches new film
Posted on
The new film from motorcycle safety campaign Live Fast Die Old by The Scottish Government and Road Safety Scotland*, launched today.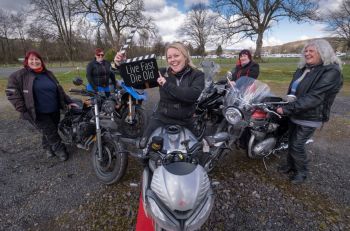 Part of the campaign's Breathtaking Roads series, the film highlights the thrill of riding while also reminding bikers to enjoy Scotland's roads safely.
Despite accounting for less than 1% of all road traffic in Scotland bikers account for 7% of casualties1, with bends and overtaking among the riskiest manoeuvres. 2
Shot on the scenic Isle of Skye, the short film uses striking slo-mo footage to highlight the importance of considering the entire picture and every potential hazard before making the decision to overtake. It urges bikers exploring Scotland's roads to 'take your time to take it all in'.
The film is available to watch here – Watch the Breathtaking Roads film
The film can be downloaded here – Download the Breathtaking Roads film
The dedicated Live Fast Die Old website and Facebook page offer rich and engaging content, with films and blogs from Scottish bikers sharing first-hand experience and tips with peers, as well as route inspiration and best practice advice.
To find out more about the campaign and join the conversation, visit the Live Fast Die Old website www.livefastdieold.scot or Facebook page - facebook.com/livefastdieoldscotland
The Live Fast Die Old campaign is looking for bikers across Scotland to get involved by sharing their experience, advice, top routes and ride-out tips with other bikers. If you'd like to be part of the campaign, follow Live Fast Die Old on Facebook and or get in touch on [email protected].


*Road Safety Scotland is part of Transport Scotland
1 Scotland's Road Safety Framework to 2030 (February 2021)
2 Reported Road Casualties Scotland 2020 (October 2021)