Biker Friendly Meeting Places | Cumbria - Lake District
Here follows a list of regular Motorcycle meets, hangouts and general gatherings throughout the area. If there is any we have missed please forward them for inclusion... Photos always welcome! Main Meeting Places section.
AWJ Penrith Truckstop, Mardale Road, Penrith Industrial Estate, Penrith, Cumbria, CA11 9EH. Open Mon 6am to Sat 2pm. Fuel, bar, shop, motel rooms and parking with security. Are looking to open weekends and would open for biking events/nights.
Devils Bridge
, Kirby Lonsdale, Carnforth, Cumbria, LA6 2SE. A great place to meet bikers, particular on a Sunday.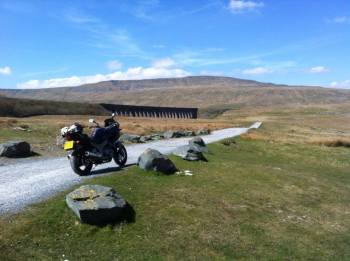 Devils Bridge Snacks
, Devils Bridge, Kirby Lonsdale, Carnforth, Cumbria, LA6 2SE
Fat Lamb Inn
, Crossbank, Ravenstonedale, Kirkby Stephen, Cumbria, CA17 4LL. Open daily.
Filling Station Cafe
, Crosthwaite Rd, Keswick, Cumbria, CA12 5PR. Open daily with a bike night on Saturdays. Recommended by Dave Evans;
"It's a small retro bike-themed diner with a 1960 classic motorcycle in the window. The food is excellent and they sell great proper coffee. There's ample parking and the cafe is only a few yards from the A66 at Keswick. The staff are very friendly and the food is of a high quality with good portion sizes. Highly recommended."

Food Glorious Food @ The Snecklifter, 104 Duke Street, Whitehaven, CA28 7EL Bike Nights, Thursday 6pm till late.
Hartside Top Cafe
, Alston, Cumbria, CA9 3BW. Fantastic views and great food in a cafe that stands in splendid isolation five miles from anywhere. Used as a staging post for rideouts by numerous biking groups and attracting up to 2,000 bikers at weekends in summer.
April 2018 - Currently closed.
Orton Scar Café, Unit 1b, Silveryard, Orton, Penrith, Cumbria, CA10 3RQ. Recommended by Michael Palmer; "I called in one Sunday as there was a few bikers outside - The welcome I got was great. It has it's own private car park and seating outside. All day breakfast, take out menu and Sunday lunch. Will certainly be back".
Tav's Inn Burger Van, Vickerstown Football Club, off Mill Lane on Walney Island, Barrow in Furness, Cumbria, LA14 3NB. Bike Night, every second Thursday of the month, 4-8pm. Open Wed - Saturday, 8.30am - 2pm. Ample free parking, toilets and outdoor seating.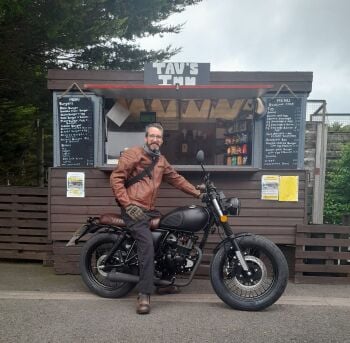 The Mulberry Bush, 35 Market Street, Kirkby Stephen, Cumbria, CA17 4TB. Open daily. Ample parking in front of cafe. Summer daily, 8.30-4. Winter 9am-3.30pm Friday to Weds.


The Old Dungeon Ghyll Hotel
, Great Langdale, Ambleside, Cumbria, LA22 9JY
w

The White Hare Cafe, 40 Market Street, Kirkby Stephen, Cumbria, CA17 4QW. High Street location with plenty of parking outside. Good food and portions, good cakes, great drinks and unlimited tea. Coat hangers to dry and hang gear. Portable heater to warm up or dry gloves. Hot soapy water, spray and cloths to clean visors. Two bike shops and two fuel stations within half a miles. Open Wednesday to Sunday, until 4pm.
The Waverley Hotel
, Whitehaven, Cumbria,
CA28 7UX
.
Currently closed - 2022.
Wilf's Café
, Staveley Mill Yard, Back Lane, Staveley, Kendal, Cumbria, LA8 9LR.
Open daily
, 9 - 4pm. Easy parking close to Café.
MBEAM
have regular breakfasts here.

* Please note, that the above list is mainly put together from visitor recommendations and is by no means a complete list of Meeting Places in the area stated. We encourage visitor feedback and recommendations, so if there is somewhere you have been and would like to
tell others about it
, then please do.
...
We strive to check listings at least yearly for any updates, closures or change of business. However, we would advise that before you head off to any of those listed for a specific visit that you check ahead - otherwise have a great ride!
...
Weekly Biker meeting place, Biker hangouts, where do Bikers meet, Biker cafes, Biker food, Motorcycle hang outs, Popular Biker places, Motorcycle cafe, motorcycle meet, bikers welcome, 18th jul 16 - jul 17 - 19 - 21 22