Motorcycle duo "Let it Go" in fancy dress fundraiser for SSAFA
Posted on
Motorcycle enthusiasts Mark 'Spoons' Witherspoon and Dave 'Woolie' Newsome took to the stage dressed as princesses Elsa and Anna from Frozen last weekend in front of a crowd of over 100 bikers after making a bet to raise £350 for SSAFA, the Armed Forces charity.
Spoons and Woolie "Let it Go" on 21st August 2021 – Woolie's birthday – at GEMCC Sapphire & Steel motorcycle rally at the Sloop Inn, Temple Hirst, Selby.
Spoons was a Lance Corporal in the Fusiliers for nine years, taking in two tours including Northern Ireland and Bosnia. Woolie is a long-term supporter of the Armed Forces community and runs Team Sober MCC, which has raised funds for SSAFA over the last few years.
The duo said: "We agreed that if we raised £350 for SSAFA, the Armed Forces charity, we would dress as female princesses. The community has now raised £460 meaning we have to go ahead with our challenge!"
As well as raising a few eyebrows, the intrepid pair has now raised more than £755 for SSAFA with their Frozen inspired onstage exploits.
Their friend, Paul Auduchowitsch, said: "We have purchased the dresses, wands and tiaras for the two of them. SSAFA has kindly provided a pretty sash for the pair of them too!"
Donations are still being accepted, and If you would like to contribute, click here: justgiving.com/fundraising/paul-auduchowitsch2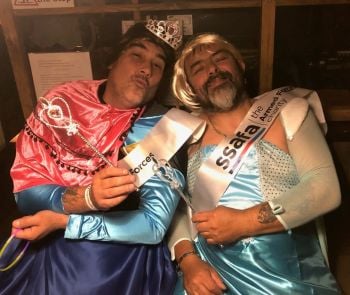 SSAFA, the Armed Forces charity, has been providing lifelong support to our Forces and their families since 1885. In 2020, our teams of volunteers and employees helped more than 79,000 people in need, from Second World War veterans to young men and women who have served in more recent conflicts, and their families. SSAFA understands that behind every uniform is a person. And we are here for that person – any time they need us, in any way they need us, for as long as they need us.