Rev Up the Holidays with the new Unisex Indian Motorcycle Holiday Sweater
Posted on
Indian Motorcycle enthusiasts have a reason to celebrate this holiday season as the iconic brand introduces a festive addition to its apparel range, the Unisex Indian Motorcycle Holiday Sweater, allowing riders and fans to showcase their pride stylishly and comfortably while enjoying the holiday festivities and staying warm.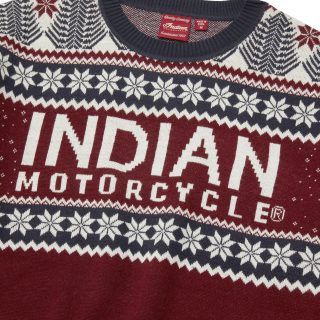 Featuring a blend of comfort, style, and unmistakable Indian Motorcycle flair, the Unisex Indian Motorcycle Holiday Sweater is crafted with meticulous attention to detail boasting ribbed cuffs, collar, and hem, ensuring a refined fit that is both comfortable and fashionable.
The front of the sweater proudly displays Indian Motorcycle, making a bold statement that reflects the rich heritage and passion associated with the legendary brand, complemented by snowflake patterns adding a touch of winter magic to the design and making it the perfect choice for holiday gatherings.
Available in a unisex design in a variety of sizes, this versatile sweater is perfect for riders and enthusiasts and makes for an ideal gift for Indian Motorcycle aficionados. The Unisex Indian Motorcycle Holiday Sweater is now available through official Indian Motorcycle authorized dealers (Item #: 2833448).
For more information on Indian Motorcycle visit IndianMotorcycle.eu and follow along on Facebook and Instagram.