The Ultimate Guide For Bikers... packed full of events, news and lots of Genuine Biker Friendly Accommodation

Welcome to THE BIKER GUIDE® website, similar to an on-line magazine. The Essential and Ultimate guide since 2009!
Free and easy to use, with lots of u

p-to-date information for the Motorcycle community, in specific sections, including an extensive Biker Directory with a wide range of businesses included.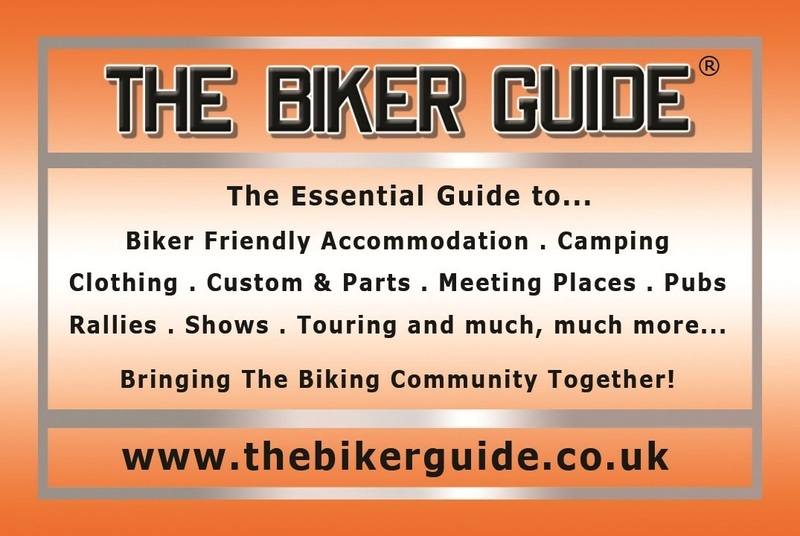 * Biker Friendly Accommodation * Cafes * Camping * Clothing * Custom Workshops * Experiences * Gifts * Insurance * Legal * Meeting Places * Motorcycle Dealers * News * Parts & Accessories * Pubs * Rallies * Ride-outs * Rider Training * Services for Events * Shows * Travel & Touring
register esta
THE BIKER GUIDE® brings together a collection of information on everything that the Bikers' Heart desires, including Rallies, Shows, Competitions and News, along with an extensive business directory and since 2009 has become a website that is trusted and visited frequently as a fantastic source of any information to do with the Biker community.
Similar to an on-line magazine, packed full of relevant information for anyone interested in the Motorcycle community with a large What's on section, News, free to enter Competitions, Club Links and an extensive Motorcycle Directory (think Yellow Pages for Bikers!) that includes Genuine Biker Friendly Accommodation, Camping, Clothing, Custom & Parts, Meeting Places, Motorcycle touring, Pubs and much, much more...

The main aim of is to have information relevant to riding a motorcycle all on one easy to use website AND with no annoying registration/sign up to see it...
As Bikers ourselves we aim to provide an informative website for our loyal and increasing in size audience, rather than just a directory with no content or information, as many other websites are - in fact we spend approximately 40% of our time sourcing and including such information and promoting the website, to Bikers throughout the UK, Europe and beyond, to help all involved gain the utmost response.
As we are passionate about Motorcycles and everything that goes with it, our visitors are extremely important to us and we welcome feedback and recommendations and encourage a lively and friendly community where visitors actively contribute. We also run regular competitions to win tickets to events, holidays at biker friendly places, clothing and many other great prizes - all free to enter.
We have visitors from over 180 countries, with UK, USA, Ireland, Germany and France being the most popular, along with the site being high on Google on most relevant searches. ie: Biker Friendly accommodation, Motorcycle Clothing, Bike Rallies, Biker Camping, Bikers welcome, etc... With regular visitors and a high site ranking, we have fast become 'THE' place to advertise your business to the Biker Community.
...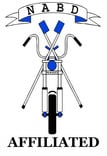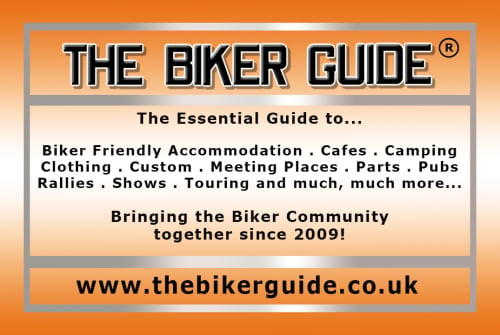 THE BIKER GUIDE® is trademarked, with the Trade Marks Registry.

No area of this website may be replicated or republished by another company or website.

The term THE BIKER GUIDE® and any words which implies the same may not be used as a generic term to describe something, used within text and/or to redirect search engines, as this may mislead people.
THE BIKER GUIDE® will take all necessary action to protect its exclusive rights to the Trade Mark.