Motorcycle Accidents – who is usually to blame?
Posted on
The Highway Code contains a section dedicated to a class of road users described as 'vulnerable.' Vulnerable road users are 'Road users requiring extra care.'
Rule 204 defines the most vulnerable road users as 'pedestrians, cyclists, motorcyclists and horse riders.'
The aim of the rules relating to this group of road users is to warn motorists of the need to take extra special care in situations in which they encounter or may encounter any of the specified group members. Motorists should exercise caution to be alive to the possibility of motorcycles:
· Coming out of junctions
· At roundabouts
· Overtaking (the motorist)
· Filtering through traffic
· Before the motorist emerges from a junction
· When the motorist is turning off the road
· When changing direction or lanes
The rules also advise motorists to:
· Check mirrors and blind spots
· Give plenty of room to motorcyclists when passing them and on uneven, oily or wet roads or those full of potholes or where there are other obstacles such as drain covers.
We can't fault the aims of the Highway Code. However, something isn't working. Otherwise, motorcyclists would not continue to have the highest casualty rates per mile travelled of all road users in the UK.
Why are more motorcyclists killed or injured (per mile travelled) in road traffic accidents than any other road user type?
1. Bikers don't benefit from the protection afforded to those who travel in motor vehicles.
2. Whilst bikers themselves are vulnerable road users, their mode of transport is more powerful than any other. Most bikes are more powerful than the majority of cars. Nevertheless, the bike rider's personal vulnerability is the same as that of cyclists and pedestrians. Accordingly, road traffic accidents involving motorcyclists carry a high likelihood of serious injury to the rider.
3. In 2017, RoSPA, the road safety charity, produced a research paper that drew on other, in-depth studies into motorcycle accidents. The research paper concluded motorcycle accidents have different 'characteristics' to those involving other road users. Motorcycle accidents are likely to include, amongst their causes:
a) failure to give way at road junctions (by motorists)
b) loss of control (by motorcyclists) on bends
c) overtaking manoeuvres (by a motorcyclist)
What are the most common types of motorcycle accident?
1. The biker is usually at fault
· Losing control on bends (particularly on country roads). Excess speed is often a significant factor in this type of accident
· Riding too fast, losing control and colliding with traffic bollards and other road fixures
· Switching lanes when unsafe to do so.
· Rider error
· Overtaking other vehicles
· Drink or drug influence
2. The motorist is most commonly at fault
· Failing to give way at a road junction
· Moving out from a line of stationary traffic into the path of an overtaking motorcycle
· Changing lanes
· Filtering
· Misjudging riders speed
· Motorist running into the back of a stationary motorcycle
· Dooring – driver or passenger of a motor vehicle opening their door into the path of a passing motorcycle
· Motorist failing to leave sufficient space to overtake motorcyclist safely.
Other causes of motorcycle accidents are:
· Weather conditions – which party is to blame for an accident between a motorist and a biker in lousy weather-will depend on the accident's particular circumstances. Going too fast for the conditions is often a factor.
· Potholes or oil leaks – again, much will depend on the individual circumstances of the incident.
Who's to blame for the majority of motorcycle accidents?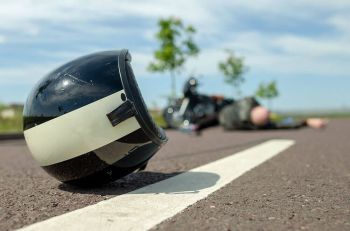 In-depth studies of motorcycle accidents suggest that motorists are to blame for over 70% of road traffic accidents involving motor vehicles and motorcyclists. Most motorcycle accidents occur at road junctions.
Should you get injured in a motorcycle accident, whatever the circumstances, it's a sensible idea to contact an experienced No Win, No Fee, personal injury solicitor who has expertise in motorcycle accident claims. They will be able to advise you on whether you have reasonable prospects of winning a claim if you decide to bring one against the other motorist involved (or the local council or highway authority in the case of a pothole claim).


Article supplied