TOP 10 THINGS TO DO by THE BIKER GUIDE
Posted on
1 Go through a long tunnel on a bike with loud pipes
2 Ride over a suspension bridge
3 Attend a large Biker Rally, eg: Nabdness, Farmyard, Stormin' the Castle, etc...
4 Buy decent gear (to keep you warm/cool/safe)
5 Go on a trip abroad with your Motorcycle by ferry
6 Go on an large organised ride out
7 Attend a Motorcycle event abroad such as Daytona, Florida, Sturgis, FH-DCE Super Rally, Faro, etc...
8 Stay at the Bikers Loft in Belgium.
9 Ride (and own) different bikes, from Harleys to Hondas, Benelli to BMW. Embrace the machines, technology and the riding experince.
10 Get on your bike and ride!
The above is merely the meandering thoughts based on the experiences and thoughts of THE BIKER GUIDE team and visitors.
Put down the map and get wonderfully lost!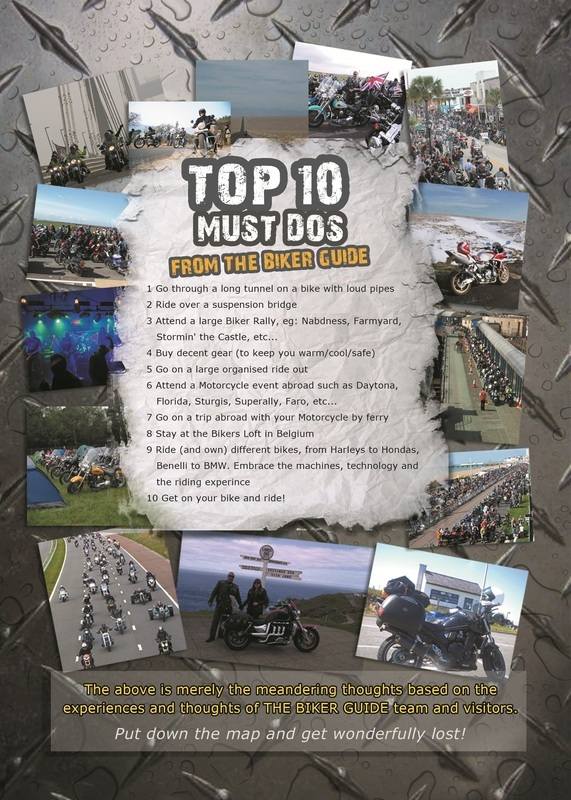 Many thanks for all those who are involved in this list and also to those who supplied us images which include;
Daytona Bike Week, David Norton, Jayne Wilkinson, John Booth, Kenny Rodger, Madelaine McLaughlin, Marcus Wallace, Mikey Gregg, Mr Creature, Phil McGladdery and Robin Head.