British Bikers Association Launched With App
Posted on
It's here, the long awaited arrival of Britain's newest and most radically vibrant motorcycle association.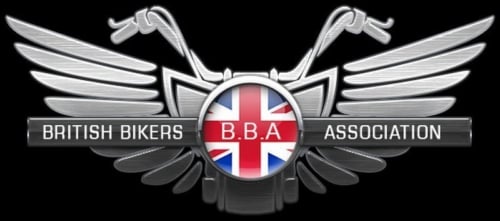 The aptly named British Bikers Association (BBA) has now launched their action and information packed website. Visitors will now be able to browse exclusive motorcycle news content and get involved in the latest debates.
The BBA team is headed up by Chairman Colin Mahoney, who emphasises that Great Britain needed to do more than meet the needs of the modern rider. Colin who is a multi brand biker of many years is confident that the BBA will mark a sea-change in the way that campaigning groups interact with their most important stakeholders - the people that make up the numbers, the members themselves.
Colin, said, "We all know that the world of motorcycling moves at an ever increasing pace, whether it's new bikes, safety equipment, technology, British bike conservation or unfair and ill prepared legislation that we have to abide by.
The British Bikers Association was launched to reflect that rapid pace of change by providing up to the minute news, advice and for a refreshing change real 'sledge hammer' campaigning clout to its members. We want to set a rigid but fair agenda when it comes to securing better deals for all bikers in all aspects of our lives."
Colin has been actively involved with motorcycling activities for over 30 years. His attitude is that there are far too many shortcuts being taken with peoples' lives in today's Britain and it's only those that shout the loudest and gather the most support that survive; and he sees himself as a survivor.
"As bikers ourselves we know what sort of action we want when we have a justifiable gripe against the unjustified, and that the powerful BBA will be the organisation that precisely reflects the mood of our members.
That's why our Biker's Voice app puts the power to build cohesive networks of riders right in the palm of their hands. Having a voice is being heard and being heard is persuasive power. The app is available on Google play or android at present and will be released for the Apple market within the next month. The BBA's purely electronic mode of delivery means that the latest news from the UK and the world of motorcycling is sent straight to members' Smartphones and email inboxes as soon as it breaks to us.
It includes
•BBA News updates piped straight from BBA to your phone. All the latest news, views, campaigns and promotions are just a finger-swipe away. •Vote in the BBA Website's surveys. A vote from the app will instantly upload on the website, meaning that never again will you need to wait until you get home to join in with our online community. With immediate access to mobile optimised content, online surveys and topical campaigns, Biker's Voice really is democracy on the move. •The app's BBA Fuel meter allows you to monitor your bike's fuel consumption and gives you advice about how much fuel you will need for your next trip based on an average measure. It will also allow you to monitor how much you have spent on petrol. •Keep an eye on your speed with the inbuilt BBA Digital speedometer (GPS enabled phones only). It will display your bike's current speed and also give you an option to a set a speed limit - great for staying safe, staying legal and managing your fuel consumption. •BBA Record your journey. The app will trace your speed, distance travelled and total time of the journey •BBA Navigational Compass. This tool will help you in your motorcycle journeys by providing accurate navigation.
Many more additions to the app are scheduled for release over the coming year and members will have the opportunity to request additional resources for the app. We will listen then implement.
It's an approach that Colin and the team believe is vital to maintaining the BBA as a progressive and developing organisation equipped to give its members the best deals possible: "£15 (or 4 pence a day) gets you a year's subscription, and that includes a free bi-monthly e-zine, full access to the Biker's Voice app and the fast-track to some of the most exciting motorcycling features around. It also means you'll become part of a genuine democratic and meaningful campaigning voice for bikers throughout the British Isles.
Colin concludes "Together we're now a force that can safeguard and promote motorcycling for the enjoyment of future generations. I want to be able to say 'I was there at the beginning'"
For more information on the BBA - including how to join and the benefits of membership - log on to www.britishbikersassociation.org