Biker Events 2023 | June
Biker Rallies, Ride-outs, Motorcycle Shows, Swap Meets, Rock nights, Charity runs, Toy Runs, Bike Meets, Biker Party, Bike Rally and more... Please check with organisers before you pack your tent!
For facebook and twitter links - if it is in green click it! For more top tips on how to use the website - Go Click!
Prescott Bike Festival | Scatter Challenge | From 10th June | From 16th June | From 24th June | july | aug | sept | oct | nov | dec | main 2023 | list your event
A one day event with lots of Motorbikes running the hill (your own and our invited special stuff) and loads of bikes to look at and talk about over a beer, coffee and some decent food.

Bikes, bikes and more bikes... marvellous!

New for 2023 - Static Arena DIsplay | On the Edge Stunt Show

Bike Fest and your support play a huge part in topping up the Blood Bikes coffers and believe us when we say they need it more than ever.

venue: Prescott Hill Climb, Gotherington, Cheltenham, Gloucestershire, GL52 9RD
price: Pre-book: from £15. OTG: from £20. Run the Hill (advance tickets only) from £39.
Sunday day tickets from £15 in advance. On the Day tickets available. Under 16's go free
tel: 01285 405 429
website: www.prescottbikefestival.co.uk
facebook
facebook event
twitter
e-mail: [email protected]
A one day event with lots of Motorbikes running the hill (your own and our invited special stuff) and loads of bikes to look at and talk about over a beer, coffee and some decent food.

Bikes, bikes and more bikes... marvellous!

New for 2023 - Static Arena DIsplay | On the Edge Stunt Show

Bike Fest and your support play a huge part in topping up the Blood Bikes coffers and believe us when we say they need it more than ever.

venue: Prescott Hill Climb, Gotherington, Cheltenham, Gloucestershire, GL52 9RD
price: Pre-book: from £15. OTG: from £20. Run the Hill (advance tickets only) from £39.
Sunday day tickets from £15 in advance. On the Day tickets available. Under 16's go free
tel: 01285 405 429
website: www.prescottbikefestival.co.uk
facebook
facebook event
twitter
e-mail: [email protected]
Every Thursday night from early May until late September
Weston Bike Night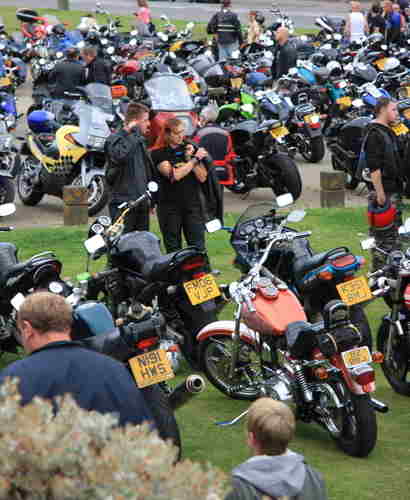 Charity event in support of the Poppy Appeal, organised by the Royal British Legion Riders Branch. 18:00 - 21:00. Events will incorporate live music, street artists, fancy dress and themed nights with Trophies: Jap Power, Scooter/125, American Power, Custom/street fighter, Trikes, European Power, Classic, Honda Goldwing and to finish Bike of the year.
venue: Weston sea front on the Beach Lawns, Weston Super Mare, Somerset. Local Accommodation.
price: A donation of £1 per bike attending there will be trade stands and food and drinks available.
tel: 01934 521 496 - 07875 336 814 - 07581 731 307
facebook group
e-mail: [email protected]
..................................
Scatter Challenge | 10th June 2023
Ride fantastic roads and gather the answers to the clues. Set you own route to suit your riding skills on the quiet scenic roads of Lincolnshire.

There is the choice of a coastal or countryside route or a mixture.

Take in the fantastic countryside, see sights you might otherwise miss, ride great roads with other like-minded riders, as you search for the answers to the clues.

A full day of varying degrees of challenges from the Bronze to the new Platinum for those who like a real challenge. For all riders whether it is a motorbike, classic bike, scooter or trike, all are welcome. No matter what level you choose you can add in the Bomber Challenge - a free add on to the day and an extra award is given to those that complete it.

Certificates are provided to show completion and proof of finish.

There is also accommodation available next door at the Premier Inn for those who want to stop overnight.

venue: Start opens from 08:00 - The start and finish is at Mill Lodge, Lincoln Road, Lincoln, LN4 2RF
price: Pre-book: £10 per rider and £5 per pillion by the 26th May 2023. OTG: £15 per rider and £10 per pillion. The price includes maps for route planning, an on the day pack with your clue sheet.
tel: 07565 504 841
website: www.bikerralliesuk.com
facebook
e-mail: [email protected]
THE BIKER GUIDE® are not responsible for any incorrect information or cancelled events. We include events which are sent to us via the on-line form.
All information was correct at time of being published. Please check details with the organisers. To be included in these listing simply fill in the on-line form.

WARNING: If you do not send in this format your event may not be listed! We include information in text format as flyers are not picked up by search engines.

Please note, that only events with dates and 2023 are confirmed. Please check the event before travel.

Biker Rallies, Bike rally, harley rally uk, motorbike rally guide, biker rally's, motorcycle rallies uk, bike rallies in the uk, super rally, portugal rally, biker nites uk, motorcycle rallies uk, motorcycle toy run uk,

www.thebikerguide.co.uk

, bike events and rallies uk, motorbike party, motorbike meets north west, nabd chelford, nabdness, NABDness, motorcycle rally guide, bike shows, motorcycle shows and events uk, motorcycle shows uk, ride safe events, toy runs, charity events motorcycle, biker rallies england, wales, scotland, ireland, *bikers welcome, 2015