Current Motorcycle Trends In The UK
Posted on
The UK is experiencing a surge in motorcycle sales and usage.
Find out why bikes are more popular than ever and which models are doing the best...
A look at current MC market trends in the UK
Motorcycle usage experienced profound growth in 2020, so much so that third-quarter registration figures increased by 100 000. Last year's third-quarter figures sat at 1.35 million as opposed to 1.25 million in 2019. The increase in motorcycle purchases was in direct correlation with the rise in household expenditure. One cannot discount the practicalities or the affordability of motorcycles these days either. Chinese motorcycles have made a significant dent thanks to great pricing and low production costs – even Harley-Davidson now produces some of their bikes in China.
Some of the upswing in terms of UK motorcycle sales and growth can be attributed to the global health crises of the last year and a half. Socially distanced commuting is doing the rounds while the incredible boom in delivery services has also led a massive proliferation in motorcycle usage. Below are some of the bikes doing the most business in the UK right now.
The Lexmoto LXR125
125cc bikes have really carved out their slice of the market and we have the various Chinese manufactures to partly thank for that. The Lexmoto LXR125 is both visually appealing and pocketfriendly and this has made it an incredibly popular option. With a price tag of only £2199, the Lexmoto LXR comes in at less than half of what you'd pay for Yamaha's equivalent – the YZF-R125.
The Lexmoto offers all the aesthetic qualities such as a racy bodywork and a stubby exhaust and for a little bit more (£2499) you can also get more. Sure, it's not as fast as the Yamaha nor is it as well-constructed, but seeing as it's a beginners bike, odds are you'll trade it in for an upgrade soon enough.
The Honda CB125F
The Honda Motor Company has a track record of offering investors in auto and vehicle industries more bang for their buck. As far back as 1948 this Japanese multinational conglomerate has produced both cars and bikes of impeccable quality.
For the longest time Honda has maintained its reputation when it comes to providing the commuter with something simple, reliable, affordable and economical. It owes a lot of this credit to its old CG125 which it unveiled way back in the 1970s. The most recent of these models, the CB125F, was launched in 2015. The enduring popularity of this bike cannot be denied and this is largely due to its proven reliability, durability and Honda's well-established footprint in the motorcycle world.
The Honda PCX125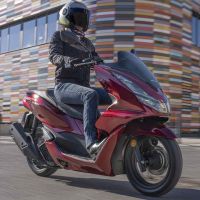 Honda's PCX125 scooter hasn't just proven itself to be the UK's top-selling scooter, it's also taken the title of top-selling 125, and the sales don't lie. Last year in 2020, an average of 300 of these models registered each month!
The bike has received its fair share of stylish updates – mainly in 2014, 2016 and this year again, but the basic recipe for the bike's success remains the same. As they like to say, "if it ain't broke, don't fix it." Easy to ride and with very accommodating luggage space, the PCX125 offers both comfort and practicality. It's also an incredibly sleek and sexy scooter to behold and offers all kinds of modern tropes like a smart LCD digital dash, LED lights and 'stop-start' technology – all giving this liquid-cooled number a premium feel. Nippy and affordable, you'd be selling yourself short not to look twice at this one.
article supplied