Africa Twin Adventures - Based in Cape Town, South Africa...
Posted on
... offering exclusive and luxury adventure motorcycle tour experiences on a fleet of Honda Africa Twin motorcycles.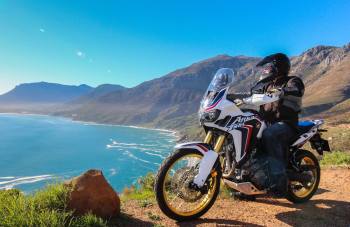 Owner Gavin born in Cape Town, has a passion for his hometown and the wider Western Cape region, motorcycle riding and nature and with 15 years of hard-core motorcycle trips under the belt realizes that a high standard of accommodation and meals are as important as the ride and the views to make a tour a tr...uly unforgettable experience!
Traveling at speed to reach destinations can be exhilarating, however the reality of this can be that you can miss a lot along the way, not having enough time to enjoy the scenery and breathe in the fresh air. ATA take exceptional care to offer and ensure amazing rides and tour options, while paying as much attention to the comfort and enjoyment factor during the ride and also when you are not on the motorcycle.
Here the tours focus on shorter daily distances, providing enough time to take in the sights and sounds along the way, as well as everything the beautiful countryside has to offer. This approach results in safer riding as riders do not have to struggle to keep up with a group and so can enjoy the riding. A back-up vehicle is provided for each tour and follows the riders, meaning no luggage to carry. The tours cater for smaller groups, include the motorcycle hire, riding kit, meals, fuel and accommodation and can be described as an exclusive, luxury and truly an unforgettable riding experience!
Routes cater for various tourist attractions including firm favorites such as Whale and Winelands, endless sea views, natural forests, Cederberg rugged region, quaint little towns and villages, the world famous Cango Caves, semi-desert rock formations and game farms hosting many of the great African wild life species. The seasoned tour guides know and understand the roads and road conditions and have excellent knowledge of the regions you will travel through, places of interest, general attractions and the locals. They are there not only to guide your journey, but also to add flavour to your experience.
www.facebook.com/Africatwinadventures/