Ten most dangerous roads for motorcyclists in Britain revealed | Swinton Insurance announce partnership with IAM RoadSmart
Posted on
Roads including Greater London's Lambeth A23 named as dangerous for motorcyclists– findings revealed as Swinton Insurance announces partnership with IAM RoadSmart
Ten roads across Britain have been named as the most dangerous for motorcyclists, including the North West's High Peak A57 and London's Lambeth A23, according to government data analysed by Swinton Insurance. In total in 2016, 118 accidents involving motorcycles happened on these ten roads.
The research compiled by Swinton, the UK's largest high street insurance broker, reveals the motorcyclists most likely to be in an accident by age and motorcycle type across each region in the UK.
The national average showed motorcyclists aged 25 are at most risk of an accident. Men were also 93% more likely to be involved in accidents than women across the UK.
The conditions most likely to cause an accident on a motorcycle have also been revealed. Motorcyclists are most likely to have an accident in daylight, travelling in a 30mph zone with dry road conditions. Accidents are also more likely to happen on a Wednesday, according to the Swinton Insurance findings from government data.
Motorbike engine size also played an important factor in accidents across the country, with 44% of accidents occurring on a bike with an engine size of 50 to 125cc. A further 37% of accidents involved a motorbike with an engine size of over 500cc.
A-Roads were found to be the most dangerous, with 79% of accidents occurring there compared to just 21% on other types of routes. Most accidents also happened during fine weather conditions and more accidents also occurred in urban areas. With hazards from hairpin bends to ensuring a motorbike is ready for the road, there are many tricky hurdles for a motorcyclist to overcome on roads across Great Britain.
Top 10 most dangerous regional roads for motorcyclists across the UK
| | | |
| --- | --- | --- |
| Position | Region | Road |
| 1 | Greater London | Lambeth A23 |
| 2 | South East | Rother A259 |
| 3 | Yorkshire and Humber | Kirklees A62 |
| 4 | South West | North Somerset A370 |
| 5 | West Midlands | Birmingham A4040 |
| 6 | East Midlands | Leicester A563 |
| 7 | North West | High Peak A57 |
| 8 | Wales | Powys A483 |
| 9 | Scotland | Highland A82 |
| 10 | North East | South Tyneside A194 |
To coincide with UN Global Road Safety Week 2017, which begins on Monday 8th May, and to help raise awareness the importance of motorcycle safety, Swinton Insurance has announced a partnership with leading road safety charity, IAM RoadSmart. The charity have contributed guide content, offering practical advice on issues such as filtering, biking in seasonal weather conditions, as well as dealing with vulnerable road users. There are also top tips for riders returning to the saddle.
Along with IAM RoadSmart, Swinton Insurance has also teamed up with a panel of experienced motorcyclists, who have provided commentary for biking on some of the UKs' most dangerous roads. They have shared practical advice on issues such as tyre safety, handling a motorbike, and how to bike in tricky conditions. The bikers' commentary also highlights key watch outs when biking on the most dangerous regional roads. Yorkshire / London
The free guides and an interactive map that shows the most dangerous regional roads across the UK and its regions is now available here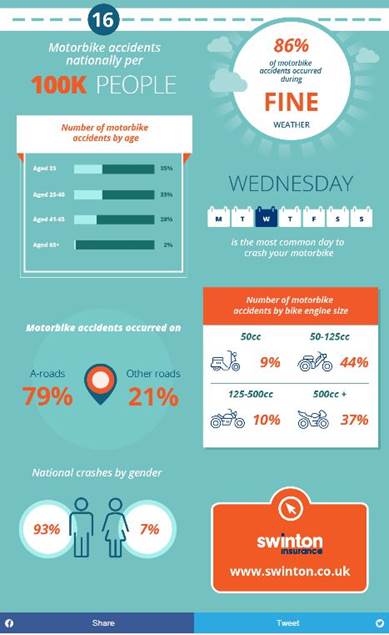 Rodney Kumar IAM RoadSmart said: "We often find that while drivers and motorcyclists strive to be as safe as possible, some find it a challenge to understand exactly how to do so. And as time passes after our driving tests, some of the simple tips we learnt to help stay safe can fade into the background. That's why it's so important to offer useful and easily digestible information on how to be a safer driver. We are excited to partner with Swinton to help spread the word about national motorcycle safety"
Dan Agate Swinton Insurance said: "Motorcycle safety should always be front of mind for any rider, but awareness events like the UN Global Road Safety Week are great reminders of just how imperative it is to do what we can to stay safe on the road. And talking about it now to riders in across the nation, ahead of summer months, is really important. We hope our interactive map and guides help people to think more about safety with every journey they make, come rain or shine."
Swinton Insurance has been helping people find insurance for more than 50 years by using panels of insurers to find the right cover for individual needs without compromising on price.