Best Biking routes in the USA
Posted on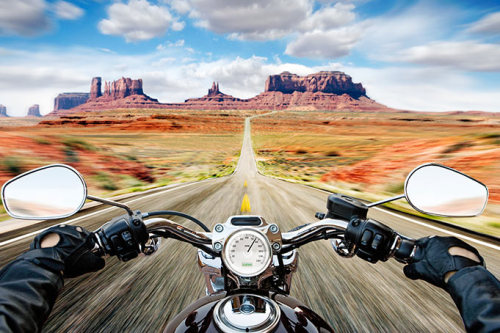 Touring the good old USA in the ultimate American coast to coast biking trip is on the bucket list of most bikers. Who among us hasn't dreamt of riding the infamous Route 66 from the saddle of a Harley Davidson while listening to Steppenwolf's Born to be Wild? It might be a cliché, but it's a cliché for a reason.
The truth is the USA offers some of the most amazing empty roads and spectacular scenery that you'll find anywhere in the world, and is probably the most biker friendly country you'll visit too, featuring plenty of iconic biker friendly accommodations and bars along every route. While there are hundreds of amazing routes you can take in America, let's take a look at some of the best and most popular routes.
Route 66 – From Chicago to Santa Monica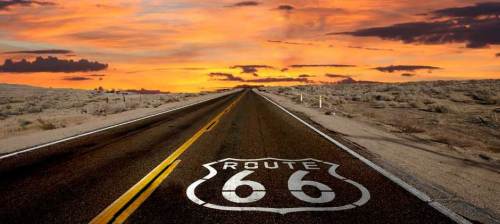 This list would not feel right unless we started with the world famous "Mother Road" highway – Route 66. One of the original highways in the US Highway System, Route 66 spans a total of 2,448 miles (3,940 km). Beginning in Chicago, IL, this historic cross country route established in 1926 will take you through a total of 8 states: Illinois, Missouri, Kansas, Oklahoma, Texas, New Mexico, Arizona, and finally to California.
The so called Main Street of America is not just a hugely visited route because of its legend however, as it features a huge variety of beautiful landscapes, national parks, monuments, ghost towns, and kitschy iconic pieces of Americana that are definitely a sight to behold.
From the quirky Cadillac Ranch in Texas, the breathtaking Painted Desert in Arizona, the Teepee shaped Wigwam Motels, or the Jesse James Museum in Missouri, there are enough historic, natural and cultural landmarks throughout the route to guarantee that you'll get your kicks on Route 66. TheRoute-66.com has a very complete list of attractions you well encounter along the way.
Valley of Fire Loop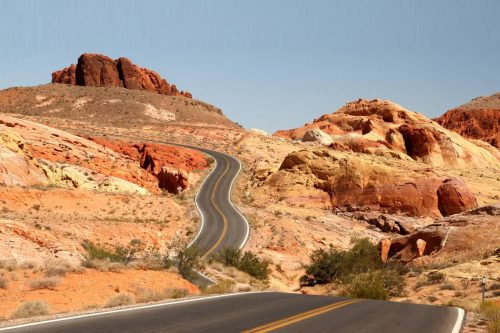 About 20 minutes away from Las Vegas you'll find about 100 miles of the most amazing ride areas in all of America. Featuring twisty, windy roads with scenic vistas of desert, canyons and Lake Mead, this route will take you to the Valley of Fire State park and back, visiting some amazing locations along the way.
Starting in North Las Vegas on the I-15, you will border Lake Mead and the Colorado River until reaching the Valley of Fire. The Valley of Fire State Park, located about 50 miles northwest of Las Vegas, offers some of the most incredible vistas for bikers throughout its 42,000 acres of spectacular red sandstone formations dating back over 150 million years. Owing its name to the way that the sandstone appears to be on fire when reflecting the harsh desert sun, The Valley of Fire is the oldest state park in Nevada and offers riders a great spots to camp and amazing hiking trails.
However, since this route should only take you about a day or so the best bet will always be to simply return to Las Vegas and enjoy yourself with some of their famous shows, bars and of course casinos! If you want to know which casinos are the best to visit, Vikingslots travel guide of Las Vegas can help you determine which casino is right for you.
Route 50 – The Backbone of America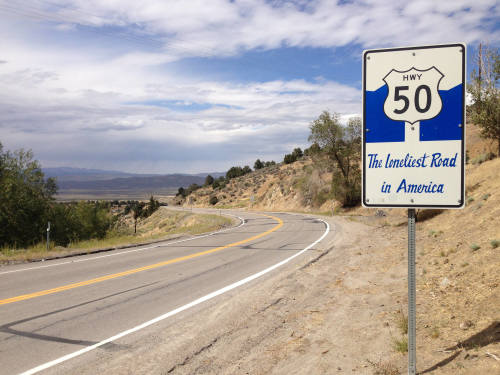 "For the unhurried, this little-known highway is the best national road across the middle of the United States," William Least Heat-Moon, Blue Highway (1982)
Route 50, also dubbed 'The Backbone of America' by Time Magazine, is a coast to coast highway that stretches 3000 miles long, spanning 13 states on its way from West Sacramento, California to Ocean City, Maryland. Running mainly through rural areas and passing hundreds of old, little towns, the Nevada section of the route is known by travelers as "'The loneliest road in America", as you will find nothing but mountains, sand, blue sky and the open road ahead of you for as far as the eye can see.
Running through national parks, caves, petroglyphs, ghost towns, lakes and forests, this route will allow you to see a little bit of everything along the way, particularly the natural beauty found throughout Middle America.
Once you arrive in Maryland, you will also be in the perfect place to start two more of the East Coast's best routes The Blue Ridge Parkway and Skyline Drive.
The Three Sisters (aka The Twisted Sisters)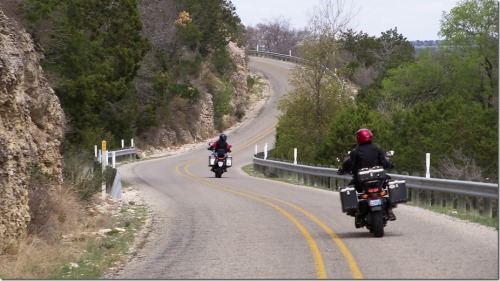 Three Sisters starts in Medina, TX, and offers bikers a 131-mile roller coaster ride that will absolutely blow you away and change the way that you view Texas for good. Filled with twisty mountain-like curves and sharp turns (hence the name the twisted sisters), this road will take you through large hills, clear rivers, the amazing million dollar vistas of Frio Canyon, and even authentic J.R. Ewing-style Texas ranches.
If you feel like doing a little fishing along your journey, the Nueces River is the perfect place to catch largemouth bass, smallmouth bass, and the Texas native Guadalupe bass, as well as a variety of panfish such as redbreast sunfish, green sunfish and even Rio Grande perch.