Roughley Bike Show has received a 'formal objection' from Sky
Posted on
After finally finding the perfect place to hold the popular August Bank Holiday Roughleys Bike Show, held in St Peter's Square, Stockport for the last two years, there has been a complaint from Sky customer Contact Centre, which could force the organisers to move the event outside of area...
It seems the main objections from Sky (whos' offices rear face St Peter's Square) are that their Access and Evacuation routes are compromised, footpath blocked and the dedicated smoking area will be blocked and not usable.

As St Peter's Square was redeveloped to encourage outdoor events in Stockport and for people to come into the town, stopping this major charity event will just have the adverse effect to this plan.
* At a Stockport council meeting, the objections were raised, where Councillor Sheila Bailey said: "It is only once a year and we have had various struggles finding a location. We have listened to Sky, but we do not think it is a reason to not hold an incredibly popular event that raises a huge amount for charity. Maybe Sky should join in and have a stall at the event, I very much hope Sky will get behind this. It is hard to find a location for the event, St Peter's Square is ideal as it is big enough, doesn't affect residential properties and is easy to get to."
Roughleys Bike Show has taken place in the town centre since 2000, raising up to £10,000 for worthy causes, including NABD, The Rainbow Trust Childrens Charity and The Together Trust. It started on Stockport Market Place, was forced to move to the former Quick Fit site on Wellington Road North in 2013, then Heaton Lane car park in 2015 (both now unavailable), until the event was held in 2015 in St Peter's Square, Stockport.
Prior to the 2015 event Greater Manchester Police expressed concerns associated with anti-social behaviour and requested evidence from the organisers showing how they would manage the event and control visitors and participants before they would agree not to object. This evidence was provided and the events held in 2015 and 2016 have been well managed and controlled.
In 2015 and 2016 both Sky and Stockport Plaza, (both of which are adjacent to the square), expressed concerns regarding sound levels and requested evidence from the organisers to show how they would manage/mitigate the impact of this issue. In response to this the event organisers met with representatives from both Sky and Stockport Plaza and despite some remaining concerns, both organisations agreed not to object to the event.
On the list of potential alternative locations is Whitebottom Farm (through Etherow Country Park), where it is stated "A different bikers event with music has previously been successfully held at this location. It might be possible for Roughley's to consider combining with this event or simply run their own event at this site."
Following the creation and the £3 million+ public realm improvement scheme on St Peter's Square, to bring vitality and footfall to this quite part of the town centre, it is surely wasted if events are then not allowed to go ahead, especially such a successful and popular charity event and so we hope that the council allow permission for Roughleys Bike Show 2017.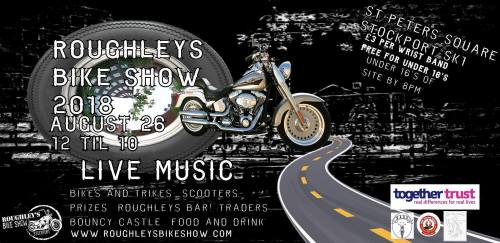 Read more
* 'Formal objection' from TV giant Sky seeks to switch off major Stockport charity event
Stockport Council gets top marks for St Peter's Square

Update 17th February 2017
Great news for Roughley's Bike Show 2017.
Sky are now supporting the show and its three charity beneficiaries.

Rick Hulse wrote to Jeremy Darroch, the CEO of Sky TV, on Wednesday and has received the email below.

"Dear Mr Hulse,

Thank you for your email of 15 February about Roughleys Bike Show which takes place close to the Sky Contact Centre in St Peter's Square, Stockport over the August Bank Holiday.

I was sorry to read about the challenges experienced in recent years securing a suitable location for this popular charity event and I apologise for the concern caused by Sky's enquiries regarding support to find a suitable alternative venue.

From your note it is clear that St Peter's Square is the ideal location for Roughleys Bike Show, and Sky is pleased to support the event taking place there again this August. For context, I understand that our local management were concerned about the safety of Sky staff as fire evacuation points are compromised during the event, and were trying to find ways to stay open to support our customers. They were seeking to work with the Council and the organisers to explore alternative options.

However, as you have said, it appears that the best solution is to hold the event where you have done so in the previous couple of years. Consequently, we will close the Sky Contact Centre in Stockport again this August Bank Holiday and Sky will make alternative arrangements to support our customers from other contact centres.

Thank you also for making me aware of the impressive achievements of the NABD over the past 26 years, helping more than 11,000 people with disabilities to enjoy the freedom and independence of motorcycling. I understand that Roughleys Bike Show is also a long term contributor to the Rainbow Trust Children's Charity and the Together Trust. I appreciate that the continuation of the excellent work by all three charities is reliant on donations, like those they receive from Roughleys Bike Show. As a gesture of Sky's support of the event, and to say sorry for any inconvenience caused, we will be making a donation to the three charities of £1,500 each.

Yours sincerely,

Jeremy Darroch"
Rick has written back to Mr Darroch to express the thanks of

Roughley

Bike Show and the NABD for his speedy and most positive intervention.
He has asked that any petitions or protests in connection with this issue are brought to a halt, as this is a most amicable and pleasant result.