This weekend - KICKBACK Motorcycle Show
Posted on
This weekend on 29-30th October, Olympia London will be hosting the KICKBACK Motorcycle Show. KICKBACK is a platform for young engineers, experienced builders, craftsmen, painters, artists, fabricators of all ages...a blank canvass to express their imagination. There will be around 100 masterpieces from the top draw on display in the Invitational Showcase.
One of the special showcase motorcycles on display will be the Award Winning "Speed Weevil".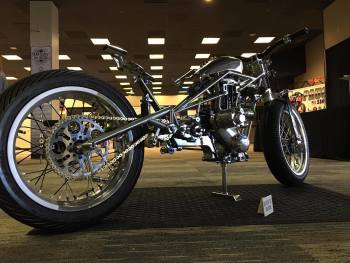 This stunning work of art has just been voted winner at this year's Artistry in Iron Championship at the Las Vegas Bike Fest. Designed, created and built by Pete Pearson who runs (with his wife Lisa) Rocket Bobs Cycle Works, "Speed Weevil" is a salt racer powered by a slightly modified 1935 Triumph L2-1 motor; complete with turbocharger, supercharger, methanol burning and nitrous injected enhancements! On display at KICKBACK making its one and only UK show appearance!
You will be able to enjoy getting up real close to the bikes and studying the detail of these unique customised machines, classics and specials. You will also be able to enjoy other stuff that's going on, such as The Art Space showing fine works of 'motorcycle art' presented by UAL University of the Arts London (Chelsea). Check out the World's coolest barber at the AONO pop up shop. There'll be vintage biker movies showing and live music (in the background) with 3am and Ronnie Ripple & the Ripchords.
Have a coffee or a beer, have some lunch. Talk to your mates and colleagues about frame modifications and flat trackers.
There is going to be around 50 decent traders including product launches from the likes of Dickies Motorcycle Outfitters, & Sons, Oily Rag Clothing, Gold Top, Krazy Horse, Luk3 G Clothing and Cabaret Club Clothing...plus some ace builders and dealers including the likes of Stile Italiano, Krazy Horse London, Bieda, BMG with MV Agusta, TTT Motorcycles and Royal Enfield, Jack Lilley Triumph, Rag & Bones Customs, Righteous Brothers, Sinroja and Sinnis Motorcycles...
You can get in on the door for just £10 cash for an adult weekend pass. Or if you fancy saving a few quid you can buy tickets online for just £8.95 where you'll also see kids for a quid deals.

www.thecustomshow.com