An article on First Aid
Posted on
As a biker, you've experienced the enjoyment and freedom that comes with riding a motorbike. Thinking about giving life saving medical treatment to a fallen biker is probably not the first thing you think about when riding your bike. But having a plan on how to deal with a Road Traffic Accident (RTA) involving a motorcyclist could help to administer first aid or even save a life.
Let me introduce you to the 5 Point Plan (5PP).

Point 1 - As a rider get trained in motorcycle first aid. Motorcycle first aid training, terminology and environment is different than the normal first aid at work. There are many organisations across the United Kingdom that cover this type of course.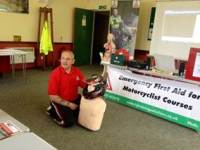 Point 2 - Carry a First Aid Kit. When you are dealing with a casualty that may have sustained a fracture or bleeding wound, not having a first aid kit at your disposal becomes very difficult when one has to improvise. There is no excuse by not having room on your bike as there are many different types and sizes available to cover all motorcycles.

Point 3 – Dealing with a Road Traffic Accident or Collision.
If you arrive on scene or witness an RTA involving a motorcyclist there is a set procedure to follow. This would be covered in a motorcycle first aid course however I will summarise the main points.
Ø Safety – You are in a high risk environment look after yourself, your casualties and any bystanders. Call for help 999 on landline, 999/112 on mobile.
Ø Check for immediate danger and protect the scene by using other motorbikes, cars or bystanders wearing hi visibility clothing.
Ø Check for casualties who need first aid assistance. Follow current first aid protocols which is Danger, Airway, Breathing, Bleeding or CPR, Defibrillation, Evacuation) on all casualties. Evacuation means being moved to hospital via ambulance to Emergency Medical Care (EMS). Some casualties may have hidden or multiple injuries, prioritise and treat.
Ø If you suspect major injury ie: Neck, Spinal, Fracture – Do not move them but treat in the position found.

Point 4 – This is a contentious issue involving helmet removal.
Ø A motorcyclist who is breathing leave motorcycle helmet on and treat accordingly.
Ø A motorcyclist who is not breathing, you may need to remove his helmet. However, it takes 2 people to remove a helmet and only carryout this procedure if you have had suitable training in helmet removal.
Ø If your casualty is not breathing normally and you feel that you do not have the confidence to remove the helmet then "CPR Only" may be the only option. I would rather do something than nothing.
There are many schemes in the UK which advises not to remove the helmet ie: the crash card that inserts inside the helmet which carries vital medical information for the ambulance personnel. Some riders have a sticker on the helmet which states "Only to be removed by medical professionals". Whatever system you use, this goes back to having some training in motorcycle first aid.

Point 5 – Don't forget to "Reassure" the casualty or casualties. This sometimes is forgotten and to be honest, reassuring the casualty is all that is needed prior to the arrival of EMS.
Remember the 5 Point Plan. "Training, First aid kit, Get help, Don't remove the helmet unless absolutely necessary, Reassure"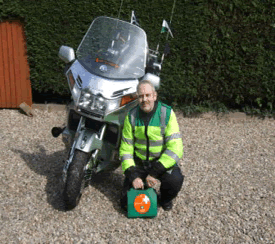 At the request of THE BIKER GUIDE - This article was written by KJ Training Solutions who deliver Motorcycle First Aid courses locally and nationally. For further information contact [email protected]