MotoScotland success with government recognition for off road training
Posted on
MotoScotland is delighted and very proud to have managed to have achieved government recognition (Department for Transport and Driver Vehicle Standards Agency) for off road motorcycle training. MotoScotland is the only off road motorbike training centre in the UK to have its training recognised as advanced rider training for road riders by council road safety departments and insurers.
In 2014 they approached the DfT & DVSA to invite them to participate in our unique training so they could fully understand the value to rider road safety. In 2015, government officials attended the training and immediately recognised how valuable this type of training was. During early 2016, they consulted with them to determine the key benefits to rider road safety and in June 2016, MotoScotland received written confirmation that new information/pages had been added to both government department websites.
Why this is very important for the UK includes: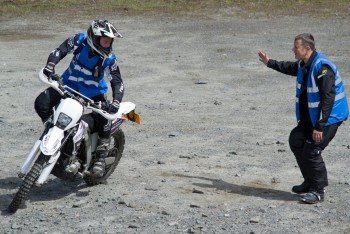 · Road safety for motorcyclists could be improved by riders taking this type of training – this could help reduce the growing number of rider accidents/deaths
· Riders are now being recommended to do off road training by the government – a significant shift in the perception of off roading
· Land (for which access is very difficult to acquire in the UK) is now identified as a necessary resource to help riders learn off road riding skills to improve road safety
· More riders are likely to engage in this training with this type of official endorsement
· More riders are likely to subsequently then try related competitive sports, e.g. trials, motocross, enduro, etc.
· The more riders engage with this type of highly physical activity, the fitter they will become – therefore, UK problems with obesity will be aided by this shift in perception
· It should have a positive impact on bike sales and ancillary items as more people engage with off road riding