40% of UK drivers believe cyclists are the most infuriating road users!
Posted on
A new road rage survey from the car leasing company, Lease Car, has revealed that over 40% of UK drivers find cyclists more irritating than any other road user they encounter.
The survey asked more than 1,200* people in the UK a series of questions about what winds them up on our roads as well as their experiences with road rage. When asked to pick out the most infuriating road users motorists come across, there was a clear winner…
The top 5 most irritating road users in the UK
- Cyclists 40.5%
- School Run Mums 29.3%
- White Van Men 28.6%
- Taxi Drivers 24.2%
- Farm Machinery 21.4%
According to British Cycling, the number of cyclists on the road is at an all-time high, with more than two million cyclists taking to the roads every week. It's thought that team GB's success in the velodrome at the Olympic games, along with Britain's recent successes in the Tour de France has spiked our nations interest in the sport.
Just about everyone has experienced "road rage" behind the wheel at some point or another. In fact, 42.6% of drivers feel angry with fellow road users at least once a week. But which UK city has the worst road rage problem? Cyclists… steer clear!
The angriest cities behind the wheel in the UK (based on instances of road rage a month)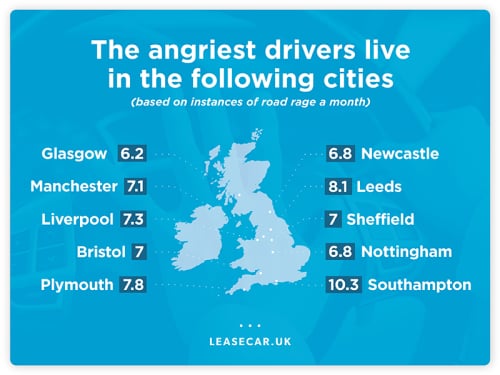 1. Southampton – 10.3
2. Leeds - 8.1
3. Plymouth – 7.8
4. Liverpool- 7.3
5. Manchester -7.1
6. Bristol – 7
7. Sheffield – 7
8. Newcastle – 6.8
9. Nottingham – 6.8
10. Glasgow – 6.2
Although they may be considered a nuisance, cyclists are the most vulnerable group on our roads today and need to be protected, even if this means adding a few minutes on to the average journey time.
To help drivers and cyclists live in harmony on our roads, Lease Car has created a fact file of top tips for drivers to keep in mind when they encounter a cyclist on the road.
· Always check for cyclists before you open your car door – it sounds obvious but drivers can often forget to take a look at their surroundings before leaving their vehicle.
· Give cyclists plenty of space when overtaking them and if there isn't enough room don't attempt it.
· Treat cyclist's equally- by law they are entitled to the same rights on the road as motorists so treat them as you would any slow-moving vehicle.
· Give them extra space in bad weather - wet conditions can make it extremely slippery for cyclists.
· At night use dipped headlights when approaching cyclists like you would any other road user.
· Leave room for cyclists at traffic lights.
· Be aware of blind spots, especially if you drive a HGV.
· When turning left allow a cyclist ahead of you to pass the junction rather than overtake them- patience can save lives.
Tim Alcock, Senior Marketing Executive at Lease Car said: "Our survey revealed that cyclists caused more stress to the average driver than any other road user, and whilst they may be an inconvenience when getting from A to B, we need to remember that they have as much right to be on the roads than anyone else. Cyclists are vulnerable road users, so it's important to look at how we can raise awareness around their safety, and try and get drivers to keep their cool when they encounter them. Drivers can get carried away sometimes and its important to understand that what may seem like a minor reaction can be extremely dangerous and carry serious penalties if you're caught by the police. We all come down with a case of Road Rage from time to time, but in these situations it's important to keep to the old adage of keeping calm and carrying on."
* The research was conducted with 1,200 general consumers aged 18+ in GB between 05/08/2016 & 08/08/2016. The survey was conducted from a random sample of UK adults.