Songs that feature a Motorbike sound or is about Motorbikes...
Posted on
The track Triumph (Of The Good City) by Jean Jacques Burnel (of the stranglers) features a motorcycle engine, so we were wondering if you know of any other songs that feature a Motorcycle?
Thanks to Les Ross for letting us know about this track!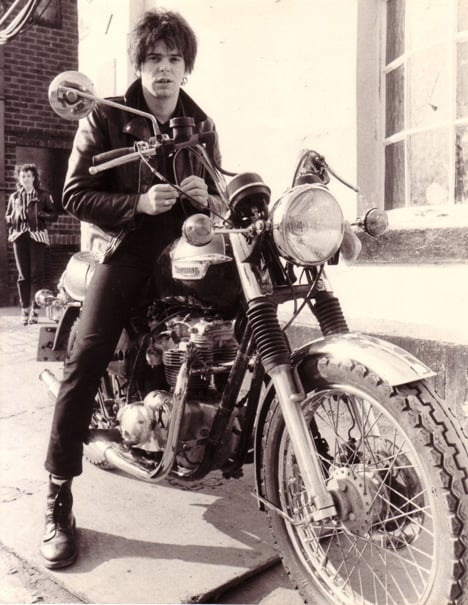 We asked the members of the facebook page and group if they could suggest other tracks and we have the following answers...
Johnny Angel - 1952 Vincent Black Lightning, by Richard Thompson - Live version

Steve Clarke - B.S.A - by the Steve Gibbons Band
Nick Flagg - Motorcycle Man (live version) by Saxon
Dave Ayre - Motorcycle Emptiness, by Manic Street Preachers
Les Ross - Motor Bikin`, by Chris Spedding
Blues Theme, by Davie Allan & The Arrows. Opening music to Wild Angels.
Motorbike Beat, the Revillos
Street Bob Brown - Bat out of Hell, by MeatLoaf
Johnny Angel - The Motorcycle Song, by Arlo Guthrie
Ben Elves - Ride the wild wind, Queen
Brian Johnson - Leader Of The Pack, by The Shangri-Las
Terry, by Twinkle
Harley-Davidson, by Bridgit Bardot

Mark A Rhodie - Little Honda '64, by the Beach Boys
Bob Scales - Bad Motor Scooter, by Montrose
James McKay - My little sister's got a motorbike, by Crazy Cavan
Peter Twyning - Lets Ride, by Status Quo (Rocking all over the world album)
Gary Roberts - Too Old To Rock 'n' Roll: Too Young To Die, by Jethro Tull. Great story in a song.
Haydn Tovey - Funky moped, by Jasper Carrot
A late entry from Jeff Needham. Just for Kicks - Mike Sarne (Live version)

Other songs from our facebook group are
Born to be Wild, by Steppenwolf
Iron Horse Born to Lose, by Motorhead

Freebird, by Lynytd Skynyrd

Thunder Struck, by AC/DC
Too Fast To Live Too Young To Die, by Robert Gordon
Last Rebel on the Road, by Lynyrd Skynyrd

She Rides a Harley-Davidson, by Neil Young

Faster, by Within Temptation
Motorcycle Dream, by Slack Alice

I'm a Rocker by Chas and Dave
Motopsycho Nightmare - Bob Dylan
Riding in the T.T.Races - George Formby
Andrew Jordan - Days of the Underground, by Hawkwind. Not a specific motorcycle song but does have the lines containing Smiling Michael and his black motorcycle and also mentions chromium heroes ( bikers)

The top five favourites were

Born to be Wild, by Steppenwolf

Bat out of Hell, by MeatLoaf

Iron Horse Born to Lose, by Motorhead

Freebird, by Lynytd Skynyrd

1952 Vincent Black Lightning, by Richard Thompson