British Motor Museum makes three new senior staff appointments
Posted on
The British Motor Museum (formerly known as the Heritage Motor Centre), has made three new senior staff appointments. John Bishop takes on the role of Group Visits Executive, Simon Carr joins as Clubs & Rallies Co-ordinator and Neil Colledge joins as the Drivezone Development Officer.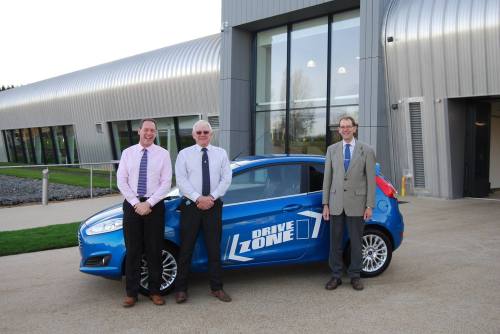 John Bishop, who was previously 'Clubs, Groups & Rallies Senior Co-Ordinator' took on the new role of 'Group Visits Executive' from 30 November. John is responsible for promoting the British Motor Museum and Collections Centre to Group Travel Organisers and Tour Operators as well as developing joint visits with other venues and increasing footfall. John joined the organisation 20 years ago and is well experienced in what the British Motor Museum can offer, as well as motoring history, social history and RAF Gaydon history. John plans to introduce a series of new guided tours in 2016, including 'Mind Your Motoring Manners' with Paula Cornwell acting as the Hon. Mrs Victor Bruce.
Simon Carr is responsible for looking after clubs and rallies who wish to hold club meetings/AGM's and run road rallies. His main responsibilities are to look after classic car clubs and promote the excellent facilities on offer at the British Motor Museum. Simon's experience has previously been in customer services so he is well equipped for his new role. His future plans include running the usual events such as Club Expo and the Heritage Rally as well as new events such as the 2016 Shakespeare Rally which will celebrate 400 years of Shakespeare's legacy over the August bank holiday weekend.
Neil Colledge, a retired Police Officer, started at the British Motor Museum on 2 November. He is heading up the Museums 'Drivezone' which provides driver education and experiences for people of all ages, starting from 11 years! One of his aims is to try and reduce road casualties by providing driver education to 11 - 17 year olds before they start driving lessons. During Neil's time as a traffic officer, he attended and dealt with many road traffic collisions where drivers suffered life changing or fatal injuries, and the hardest thing he did was to deliver "that message" that due to a collision, someone will not be coming home. The last 5 years of his police service was spent in the forces driving school, teaching both police officers and support staff to drive cars and ride motorcycles, from basic assessments to advanced level, including emergency response and pursuit techniques. Neil was also the trainer and assessor for the VIP police motorcycle escort team. Neil is passionate about road safety, and is a member of The Association of Independent Road Safety Officers, The Institute of Advanced Motorists and is an approved examiner for RoSPA. Neil's future plans include developing a road safety academy at the British Motor Museum .
The British Motor Museum re-opens to the public on Saturday 13 February following a refurbishment at a cost of £1.1m by the British Motor Industry Heritage Trust. The changes will result in a much more visually exciting and immersive display of cars, designed to appeal to both current fans as well as new audiences yet to experience all that the Museum has to offer. The Collections Centre also re-opens on the same date. Supported by Heritage Lottery Fund, Jaguar Land Rover and the Garfield Weston Foundation, as well as the two charitable Trusts involved, the £4m project stores around 250 vehicles from the reserve collections of the British Motor Industry Heritage Trust and the Jaguar Heritage Trust. To find out more information please visit the website at www.britishmotormuseum.co.uk