Biker News - Regularly updated
Welcome to our News section, where articles are listed below and if relevant within the categories on the right, just to make it easier for you to find what you wish to read...

Please note that the content within our News section (text and images), follows the same copyright laws/notice as all other content on the website - ie not to be reproduced (including slightly amending) without prior consent.
If you don't ride in the rain you don't ride...
Posted on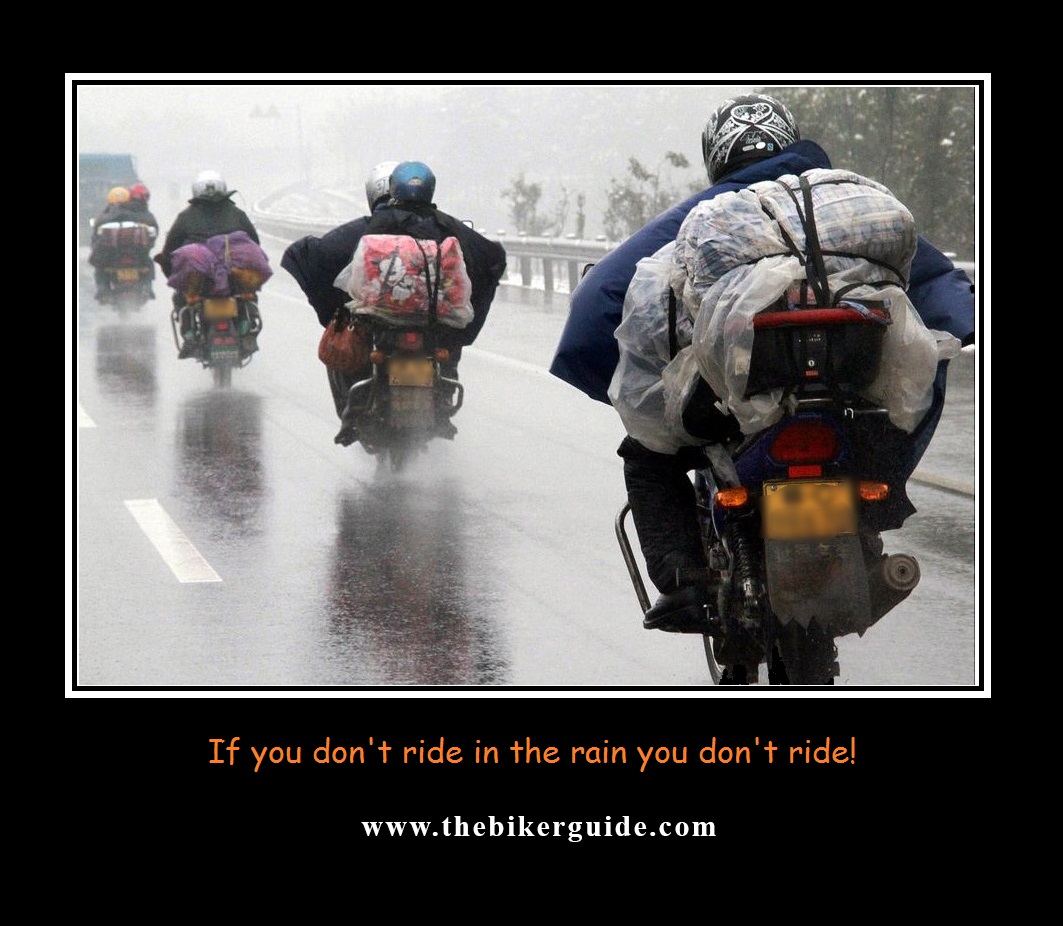 Share your riding in the rain stories...
Comments
Returning home from Rome Harley Rally couple years ago passing through Germany on Motorway broke down in lashing rain. Stripped every tooth from the Fatboy drive belt. Boy am I glad the missus and I had out high vis on. The reflective strips on them did the job well. Lesson learned in heavy rain. Extra 2 days holiday in Koblenz for repairs and one on Netherlands. So glad we ended up in Koblenz, lovely place.

Posted on

Got caught in a cloudburst on the motorway in Brittany a couple of years back. We hadn't taken our wet weather gear out as the forecast was dry for the whole day. I literally emptied my boots out into the bath when we got back to the digs. Took two days for our gear to dry out. Lesson learnt.

Posted on

Indy Motogp back to new Jersey 2014. 17 hours over two days in red cell rain. Tornado warnings and small twisters forming at the side of the road. Most frightening and exhilarating experience ever.

Posted on

Rode to Jerez for MotoGP in 2004, p**!!d it down everyday apart from the day we arrived, rained race day big time and all the way home My R1 was 2 weeks old with 3k on the clock, felt like crying.

Posted on

On our way to Austria riding on the motorway through Germany. Enormous hailstones falling out of the sky and nowhere to stop - the Germans in their BMW cars were parked under the motorway bridges!

Posted on

I live in Wales, it's a rain riding story every time I go for a bag of chips!

Posted on

Riding through Austrian alps when a curtain of wet descends... already steep and twisty, it gets worse when the road is closed and we have to go onto to gravelly road then a single track steep switch backs... followed by lots of short tunnels in poor light and more rain. It was an adventure in hindsight - **!! miserable at the time!

Posted on

Coming over Shap on the M6 with about 30 feet visibility. Not nice. The old Belstaffs didn't let in till about 2 miles from home. Hein Gericke Gore Tex all the way now. 200 miles to Scotland pouring down nothing got through.

Posted on

Heine Gericke suit, gortex boots and gloves, pin lock visor. What bad weather?

Posted on

Once upon a time I was riding in the French alps with 5 buddies on their bikes behind me all fully loaded up. We were riding up the steep mountain approaching a right hander S-bend when the rain stopped, sun came out, big glare on the road and an artic lorry coming towards us. I stalled... and could hear everyone shouting from behind. Shall not repeat... scarey moments!!!

Posted on

I rode my 125 scooter home through the rain and rising waters on the day of the 2007 floods. I had to turn back on several roads where cars were being abandoned, as the water was too deep, and I rode down the centre of the (deserted) roads in places, as the camber meant only the crown of the road was safe to ride on. In all, not an experience I ever want to repeat, but as long as I've got my waterproofs I'm not put off riding by rain!

Posted on

I love riding in the wet, nothing better than being warm and cosy inside my gear, rain tapping on my visor... ace!!

Posted on

Getting so wet in Belgium we stayed in one of those cheap motels, as there was no way we would could attempt putting the tent up.Trying to dry our clothes out the then other half, put his gloves on the bulb and forgot them .The bulb started to burn the leather and they wrinkled up. Luckily he had some spares.

Posted on

One word Scotland lol

Posted on

There's nothing like riding in the rain and getting where your going then a nice hot shower and a brew, bliss

Posted on

Had the ferry booked from Cairnryan to Larne and they gave a hurricane and monsoon warning to highsided vehicles and motorcycles. Needless to say we made the ferry soaked to the skin and spent the journey on the boat stripped off under the hand dryers in the loos.

Posted on
Add a comment