Vince Warner Offers The UK's Only MotorCycle Wheel Building Course
Posted on
Colwood Wheel Works is an established wheel building business and owner Vince Warner now also offers the UK's only Motorcycle Wheel Building Course.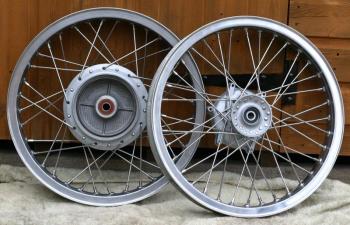 With over 40 years of experience building wheels, customers will be thrilled to be able to receive nicely tensioned wheels that are beautifully crafted and have a five year guarantee. Vince also has a passion for old bicycles and provides a courteous and friendly service.
The motorcycle wheel building course started in January 2015 and is currently taking students who wish to receive the best knowledge from the Colwood Wheel Works wheel specialist.

Students get to receive a one day or three day course with provided light refreshments and lunch from one of UK's premier wheel specialists. Each course will have room for just two students at any one time.

Here you will learn how to build strong and reliable high quality bicycle and motorcycle wheels, along with time to practice wheel building during training with direct supervision. You will learn skills of lacing and truing wheels as well as the essential and non-essential tools required to fix and repair wheels. Vince Warner goes into great depth to show how to choose the right spokes and measure them to fit the wheel that students are fixing.

One satisfied client Steve mentioned, "Just to say thank you once again for the wheel building course yesterday, practical, no nonsense and professional… I will recommend your services to all." Another student Brian Bradwell, who took the motorcycle wheel building course commented, "I have learnt a lot and feel far more confident in starting towards a wheel building future; overall your easy manner and gentle approach to learning meant I could absorb much more than I thought possible in the days I was with you."
Vince Warner is also forming a Wheel Builders Guild which he plans to launch next year. This association will have in its membership the best wire wheel builders in the UK who are carefully selected as having the highest standards in technical ability and superior customer service.

Colwood Wheel Works is a well-established wire wheel building service located in East Sussex. It is the only business in the UK that also offers a motorcycle wheel building course.
Established in 1959 by Edward Warner and operated from Carshalton, Surrey. Vince Warner, Edward's son, has been running the business from a new location in East Sussex, ever since the passing of Edward in 2005.

Vince learned about wheel building and repair since the 1960's from his father. With over 40 years of experience building wheels, customers will be thrilled to be able to receive nicely tensioned wheels that are beautifully crafted and have a five year guarantee. Vince also has a passion for old bicycles and provides a courteous and friendly service.

www.colwoodwheelworks.co.uk