ASSISTANCE AND RACE: EVERYONE GOES TO BOLIVIA!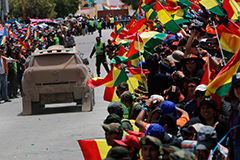 WARNING. Going through the Bolivian winter requires an intensive preparation: rain and cold are to be expected!
The Dakar caravan takes altitude and will travel trough Bolivia.
New specials, new bivouacs, breathtaking landscapes from the Titicaca Lake to the Uyuni Salar, an equally welcoming and passionate local population… all the ingredients for this edition to remain engraved in the memory of everyone involved in this 38th edition of the Dakar.
However, it is essential to be prepared to the extreme conditions of the Bolivian Altiplano, and to provide oneself with the appropriate equipment: raincoats, sleeping bags (suitable to cold temperatures), spare clothes for the pilots, etc.
Important clarifications on the conditions encountered on the Bolivian Altiplano:
• Altitude: from 3500 to 4000 meters between Lake Titicaca and Uyuni.
• Uyuni military barracks: The Uyuni stage won't be realized as a « marathon stage ». The pilots and race teams will stay with their assistance, on the bivouac.
• Bivouacs: Unlike the last 2 editions, the Bolivian stages won't be « marathon stages » and the entire caravan will be present on the bivouacs. No accommodation will be provided by the organisation for the competitors.
• Rains and Winds: some of these areas are very rainy, most particularly near the border between Peru and Oruro. It is a must to anticipate and have some spare pilot suits for the pilots and co-pilots, as well as rain clothes.
• Cold: If the temperatures could be pleasant or even hot sometimes during daytime, they might be cold (or freezing) from sunset to sunrise. To bring suitable sleeping bags is very important.
• Road networks: the roads taken by the assistances are asphalted and will be secured by the local police forces and the organization.