What defines a hardcore moto-traveller?
Posted on
Lisa and Jason from Two Wheeled Nomad, inspired by their years of living on the road, have put together a list on what they believe makes you a proper 'adventure-rider'! WARNING - contains funny stuff...
You're a real moto-traveller if:


When you've ran out of toilet roll, it's goodbye socks.

The 80 mile tow back.

Your reaction to cold showers is "Oooh, the water pressure's good!"

You're always on the scrounge for plastic bags and get excited about those ones with strong handles. And Zip-lock bags are the future; they rock your world. (A wild criterion, we know)

Sourcing a truck for your broken bike when marooned on the roadside just becomes a routine formality.

Getting blown off the road in gusting winds, missing a wild animal racing across your path by a hair's breadth at 50mph and negotiating 75 gravel hairpin bends in the space of eight hours, is just a normal day.

You've experienced enough coffee, milk and boxed wine explosions inside your pannier so you'll ride no distance without brown parcel tape or an equivalent.

You've been towed bike-to-bike at least once.

There's no length to which you won't go in order to smuggle your 'five a day' fruity lovelies across a country's border.

You've mastered the 'Survival' level in a foreign language; precisely enough to ask for what you need but not enough to understand the response.

Keeping schtum, playing dumb or even 'not quite there' in front of a fake cop has become the norm to prevent these time-stealers hindering your riding day.

Like in the film Avatar, you fuse naturally with your motorcycle like a mythical Greek creature; half man, half moto.

You love your wheels like a person, sometimes more than your peachy partner.

When your 'marvellous other' informs you that your moto-trousers reek of 'crotch', you casually dismiss it but wonder why that just doesn't bother you.

Rocking up to a civilised establishment like a cafe, with a face smeared in dirt doesn't compel you to seek soap and water first. You place your food order with the 'afternoon shadow' and then locate the toilets.

You are convinced that you're the cat with 99 lives having been saved from yourself by your moto-angel more times that you've had hot dinners.

When your instinctive reaction to crashing is, 'Bloody hell, I hope my bike's okay and still rideable' before checking for personal injuries.

Outrageous flirting has become a highly entertaining pastime, even if it means you're only saving a resultant $3 USD off your room.

You're (as a woman) prepared to display all levels of feminine charms—like wildly waving your hair around and over-the-top giggling—knowing they'll often work wonders as distraction techniques with male traffic police insistent on seeing your full complement of papers.

You can summon real tears in erupting a mini thunder storm on your face so as to rapidly retrieve your parcel of moto-parts from the clerk in foreign customs.

You'd rather sleep rough next to your motorcycle than take a comfy bed and leave your wheels unsupervised on the street.

Better still, you'd rather park your wheels in your room for the night.

Flashing your blindingly white backside while crouched near a busy motorway is something you've become increasingly comfortable with when nature calls.

You've dined on pasta with jam or rice coated in mustard at least twice.

You consider home as anywhere you kick the side-stand down.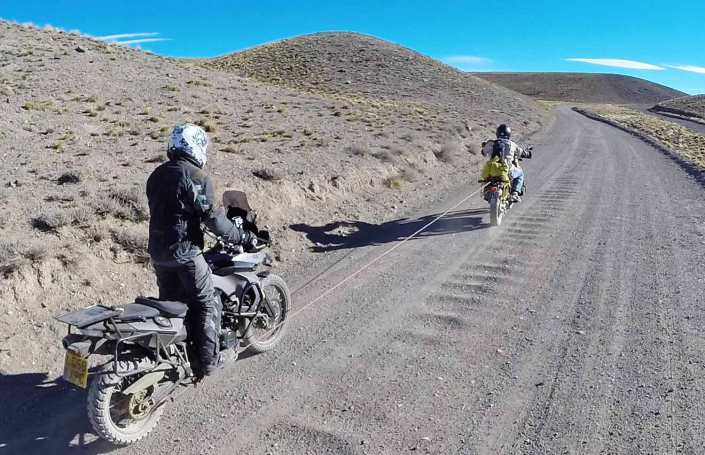 The 80 mile tow back!
See the full article on their website, with lots of great photographs and sign up for regular newsletters.