MICHELIN SPONSORS PAVEY & SON FOR 2015 DAKAR
Posted on
Father and son team SP FiFTYONE, with Dakar veteran Simon Pavey and first-time competitor Llewelyn Pavey, is currently tackling the first few days of this year's Dakar Desert Race in Argentina.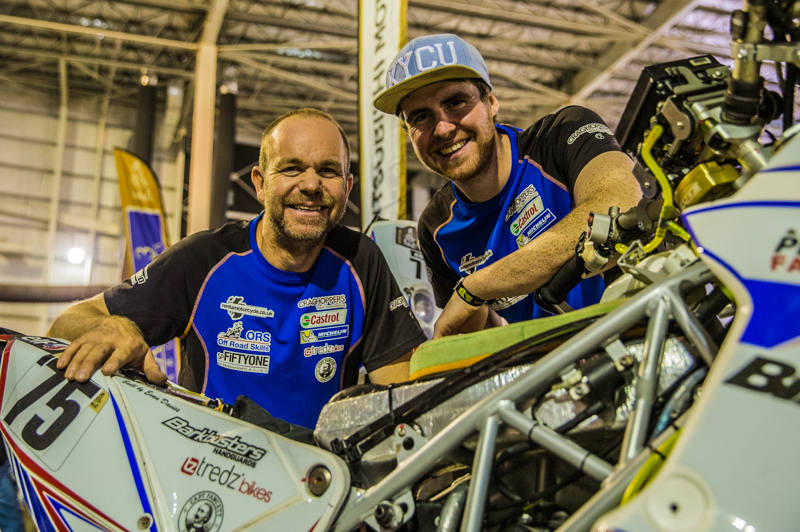 Michelin is the tyre provider of choice for the duo, who spend most of their time off-road riding at their specialist riding school set in the heart of the Welsh countryside. The Dakar sees the pair facing vastly different terrains to the Welsh valleys, with the notorious soft sand or fesh-fesh sections, dry rutted riverbeds, and riding at altitude as they head into Chile.
With such a wide variety of terrain, climate and long stages of riding – the tyres for their KTM rally bikes really needed to be able to stand up to the task. Using Michelin's Desert Race tyres combined with Bib-mousse puncture protection, the pair have already completed the first days of the race and managed to move up places within the top 100 riders.
The Michelin Desert Race tyres have won the Dakar an impressive 30 times in as many years and have certainly proven their credibility as the Rally race tyre of choice for serious competitors. In 2012, the winning KTM factory rider, Cyril Despres, went straight to the top of the podium using Desert Race tyres and praised their exceptional performance no matter what type of terrain, temperature, engine size or bike weight was thrown at them.
With excellent handling at high speeds and in extreme conditions, the tyres combined with Bib-mousse are the perfect set-up for the Pavey duo and the challenges they will face in this year's Dakar. In fact Michelin were the first to develop the concept of a foam replacement for the inner tube with Bib-mousse in 1984, and in its first year at the Dakar, the technology was proven by taking the win. The winning rider has been using Michelin Bib-mousse every year since.
Michelin UK Technical Manager, Tony Charlton explains: "A Bib-mousse replaces the inner tube for off-road motorcycles. As it is not a tube that holds air, you can't suffer from a traditional puncture or pinch flat and subsequent flat tyre, even if the tyre itself is punctured. Pinch flats are a big threat in this type of competition with high speeds and rocky terrain. A pinch flat occurs when the traditional inner tube is pinched between the tyre and wheel rim, usually from a hard impact against a rock or ledge. This splits the tube, sometimes in two places when the tyre is pushed against both sides of the rim and this is a snakebite, as that's exactly what it looks like has happened to the tube. In races like the Dakar the riders have enough to contend with without having to mend a puncture or swap a tube after every unexpectedly hard hit!
Bib-mousse is named after the Michelin Man, or Bibendum as he is officially named. It is a ring of butyl honeycomb foam with its cells filled with nitrogen. It has a smooth-moulded outer skin that is specially designed to slip into specific size off-road motorcycle tyres. We're proud to be supporting the Pavey team this year, and are confident the use of Michelin tyres and Bib-mousse will help them complete the extreme challenge."
To follow the progress of Team SP FiFTYONE visit www.simonpavey.com
Find out more about the extensive range of motorcycle tyres at moto.michelin.co.uk