Electric motorcycles should be included in a package of subsidy for green vehicles - to be announced later this month
Posted on
The Motorcycle Industry Association (MCIA) is calling for the government to recognise the potential of electric motorcycles and ensure they are clearly listed as eligible for the latest round of government subsidy to stimulate the uptake of electric vehicles.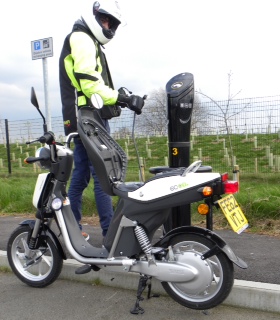 The Office for Low Emission Vehicles (OLEV) published a document at the end of April setting out the subsidy available for cars, but was not clear about whether motorcycles would be included.
The original proposals pledged to commit at least £200 million in the period 2015-2020, aimed primarily at cars stating that: 'The current £5000 car grant incentive will remain in place…until 50,000 cars have been sold, or until 2017, whichever is the sooner'.
£30 million has been put aside for 'other' vehicles, of which electric motorcycles and scooters could potentially be included.
Steve Kenward, CEO of the MCIA says this would help stimulate the electric motorcycle market and work towards reducing traffic congestion: "Up to now subsidy has excluded powered two wheelers and centred on four wheel vehicles. We are asking for a level playing field, in order to help develop this sector and to make sure the charging infrastructure is in place to support it. Motorcycles, scooters and mopeds also offer an additional opportunity to tackle congestion. Electric cars won't help cut traffic jams, but research shows that motorcycles will.* You can buy an electric scooter from around £2000, which can be charged up easily at home and is therefore perfect for commuting. Motorcycles have many fleet applications too. Police, paramedics, breakdown services and blood runners all use motorcycles when they need to cut through traffic and their riders are testament to the fact that motorcycles can and do play a valuable part in our society."
A decision regarding motorcycles will be made within a few weeks.
Notes:
*Research from Europe shows that when just 10% of car drivers swap to a motorcycle, scooter or moped congestion is reduced by 40% for all road users. When 25% swap – congestion is eliminated altogether.
You can read the research from Transport and Mobility Research Leuven here
The Motorcycle Industry Association has been representing the motorcycle industry for over 100 years and formed the Alternative Powered Motorcycle Industry Association (eMCI) in 2011.
The UK industry is valued at around £7billion (GHK study 2010).
Approximately 65,000 people are directly employed in over 6,000 related businesses (GHK study 2010).