Chiles charms running hot and blowing cold‏
Posted on
Two Wheeled Nomad
Upon registering Pearl's mileage clock 10,000 miles, without conscious volition I stopped seeing our trip as an extended holiday.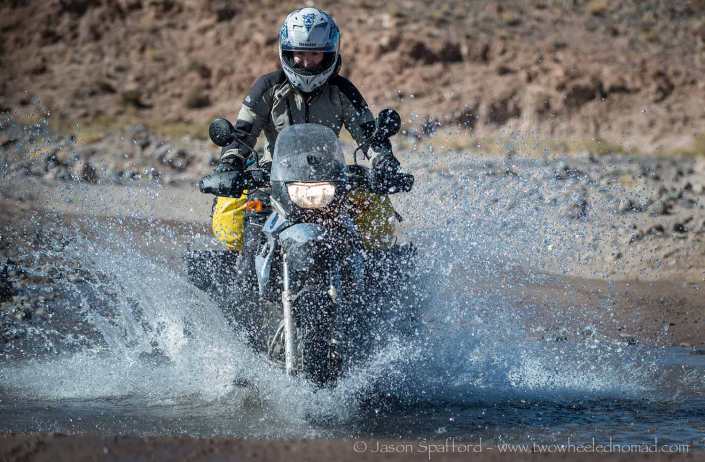 This had now become a way of life for us. The honeymoon period wasn't altogether over, it was simply the start of a new chapter having learnt the basic ropes of two wheeled travel. Namely journeying into the unknown and coping with all its capricious twists and turns – coming out the other end all the richer for it. South America so far was adorned by many pleasurable experiences mingled with the odd misadventure thrown in for good measure. We were able to carry all we needed on the back of two motorcycles, which wonderfully, excluded all those unnecessary societal burdens. I'm done with those. My new mantra naturally emerged: to wring out as much fun from life in the most gutsy, earthy, rollicking, lip-licking way. Philosopher Alan Watts said exactly that – let go and be hung up on nothing and I would add, by nobody. We felt free.
The 50 mile ride from San Pedro de Atacama took us north longitudinally in ascent to the Antofagasta region. The sky was an animated arrangement of clouds straight from an episode opening of The Simpsons. En route to El Tatio, we were ungrudgingly slowed by a herd of goats consuming the width of the road. Watching the mature ones amble and kids toddling along bum-to-bum, my heart went out to commuters back home in murderous bumper-to-bumper traffic. Straggling behind a frisky band of bearded goats was my kind of traffic jam. In eventually skirting around the herd we blasted through our first ford of water; my lower half got drenched. The splash I'd zealously made soaked my legs trickling into the top my boots. Wet feet forgotten, we were favoured with clusters of vicuña dotted on the mountainous plains – a wild relative of the llama, supposedly valued for its fine silky wool. Like the llama, vicuña were a lot less skittish than the similar looking but larger guanaco. It gave us a moment to marvel at them in the altiplano high Andean pastures against a brilliant blue sky backdrop.