Guy Martin's Big Brew
Posted on
Charity tea-drinking event set to hot up the May Bank Holiday weekend, 2nd - 5th May 2014
Road racing legend and television star, Guy Martin, asks us all to join him once again in enjoying a mug of Britain's favourite hot drink while raising money for a fantastic cause. Kettles will be boiling in participating venues all over the Bank Holiday weekend of 2nd - 5th May 2014 to help support the groundbreaking work of Spinal Research.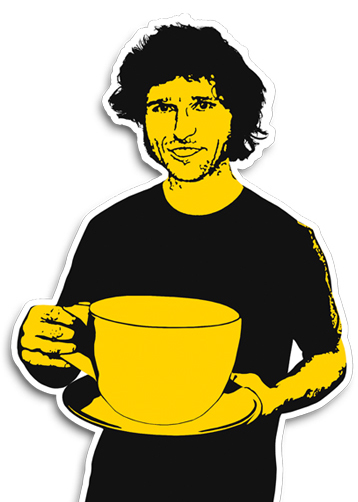 For the past three years, thousands of people have put the kettle on in support of Guy Martin's Big Brew, raising over £20,000 for Ride Out for Spinal Research. 2014 promises to be bigger than ever, with motorcycle dealerships, cafes, clubs and individual riders all over the country coming together to 'have a brew' while doing their bit to raise money and give something back.
The event involves bikers visiting their local motorcycle dealer, club or café and enjoying a cuppa while making a donation to Spinal Research. You can organise a ride out, poker run, bike night, quiz night, or simply sell tea and cakes. Spinal Research will provide you with a fundraising pack and support materials, plus your event will be listed on their map of events across the UK.
In 2013, City School of Motorcycling organised a Big Brew Fun Day, which included a climbing wall, mini motos, skilled balance riding competition, stunt rider display, raffle, barbecue, teas and cakes. Representative Patricia Barrett enthused, "I can honestly say that the Big Brew has been very beneficial to our business, not only did it increase the local community awareness of what we do, it also made the staff feel they were involved in something very worthwhile. We have had great feedback both from ex-students and the local community. Our Big Brew event generated a lot of good feeling, plus it was great fun!"
Four Chances to Win
During The Big Brew Spinal Research ask that you raise as much money as you can for their research and as a reward for your fundraising efforts, one person and a friend who raise the most money will get the chance to meet Guy at a race.
Everyone that takes part in a Big Brew event will be able to enter our free prize draw for another lucky winner and a friend to also meet Guy at a race. Our runner up will win a year's supply of Mr Porky Pork Scratchings.
After Guy fractured several bones in his back in an accident during the 2010 Isle of Man TT, he realised just how lucky he was to make a full recovery. Guy decided to unite the two great loves in his life, motorbikes and tea, and the Big Brew was born.
Ride Out for Spinal Research Ambassador, Guy said: "The Big Brew has been running for over three years now but there's still a way to go in the fight against paralysis. A mate of mine is paralysed from the neck down so I can see where the money is going. Get involved with The Big Brew – it isn't asking much and you could win a competition to meet me at Scarborough and you can also get involved with the sideburns job – it's all to raise a good few bob to help Spinal Research. Get cracking and grow a pair of sideburns. This year the person with the best sideburns as judged by me wins two tickets to the MotoGP™ British Grand Prix. Get on the website www.spinal-research.org and get involved."
The Big Brew's Big Sideburns Competition
You can also grow and show your support in The Big Brew's Big Sideburns competition. Men and women can get involved by growing or creating your own 'sidies'. Male Guy Martin fans can raise money by getting sponsored to 'grow their own' sideburns, while ladies can join in by designing painted and jewelled versions. The person with the best sidies, as judged by Guy, will win two tickets to the MotoGP™ British Grand Prix.
To enter, upload a photo of your mutton chops to www.guymartinbigbrew.org to be in with a chance of winning.
You can download sponsorship forms from the website above or start your own Virgin Money Giving Page.
Red Torpedo is also supporting Spinal Research. They will be giving 50p from the sale of every rider tee to Spinal Research – get buying and get supporting!
For your FREE information pack on how to organise your own Big Brew or to find your nearest participating venue, visit www.guymartinbigbrew.org or call Isabel on 01483 898786.
It's an exciting time for Spinal Research as they stand on the brink of clinical trials that will transform the lives of people living with paralysis, improving sensation, movement and their quality of life. But to do this they need your support.
Information
Guy Martin's Big Brew, The Big Brew and Grow and Show are the property of Guy Martin and Spinal Research. No copying of these is permitted without the written permission of Spinal Research.
About Spinal Research
Our vision is a world where spinal cord injury doesn't mean a lifetime of paralysis.
Every day three people in the UK and Ireland are told that they will never walk again; their lives and those of their families are changed forever. Spinal Research is here to give hope to those 50,000 people living with a spinal cord injury. Spinal cord injury can affect anyone in the community regardless of age, race or sex but it does disproportionally affect young adults aged 18 – 24.
At Spinal Research our focus is to find an effective treatment for spinal cord injury that not only improves sensation and movement for people living with paralysis, but brings us closer to a day when we finally conquer it.