Billy Connolly's Route 66
Posted on
BILLY CONNOLLY TAKES THE ULTIMATE ROAD TRIP
Billy takes the ultimate road trip as he travels the world's most famous highway, Route 66. Billy Connolly's Route 66 drives onto Blu-ray and DVD on the 10th October 2011 from Universal Pictures (UK) Ltd. Also available to buy and download from i-tunes.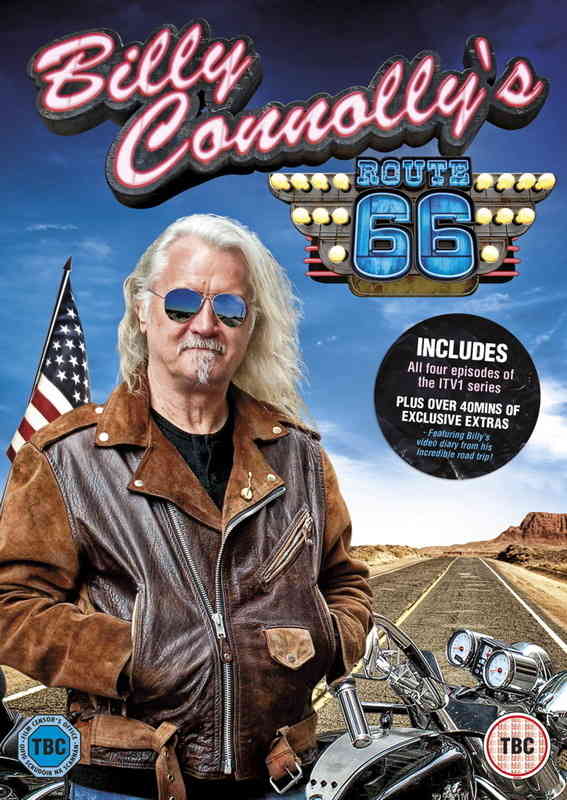 From the all-new ITV1 series, produced by Maverick Television, Billy Connolly's Route 66 sees Billy turn Easy Rider as he follows a lifelong dream and makes the iconic 2488 mile journey from Chicago to Santa Monica.
Route 66 is the embodiment of the American Dream. Millions have travelled its epic trail from the skyscrapers of Chicago and St Louis, through the Wild West badlands of Oklahoma and Texas, the Grand Canyon and deserts of New Mexico and Arizona, to the beaches of the Pacific and the excesses of LA.
Set to a soundtrack of some of the best American music of the 20th century, Billy also brings his banjo along for the ride. With his unrivalled ability to tell a great story, he brings to life both the big and small moments of American history: the world changing events and the comic asides.
Billy says: "Travelling Route 66 has always been a lifelong ambition - It brings together some of my favourite things -my trike, my banjo and America. The ultimate road trip"
On his way, Billy meets disciples of Route 66, from seasoned "roadies" to first-timers living the dream. And he isn't just passing through: anything could happen on the way... from swapping his Boom trike for a horse saddle in Texas, to soaring above LA in a helicopter with the city's traffic patrol.
Includes over 40mins of exclusive, never been seen before, DVD extras - featuring Billy's hilarious video diary from his road trip.
Billy Connolly's Route 66 is the definitive DVD and Blu-ray, also available to buy and download from i-tunes this Autumn.
DVD Details
Billy Connolly's Route 66
12 TBC
DVD/Blu-ray/i-tunes
RRP:
DVD: £19.99
Blu-ray: £24.99