Adventure Almanac – the New Touratech Catalogue 2014/2015!
Posted on
1,860 pages packed with smart ideas and innovations for motorcycles and touring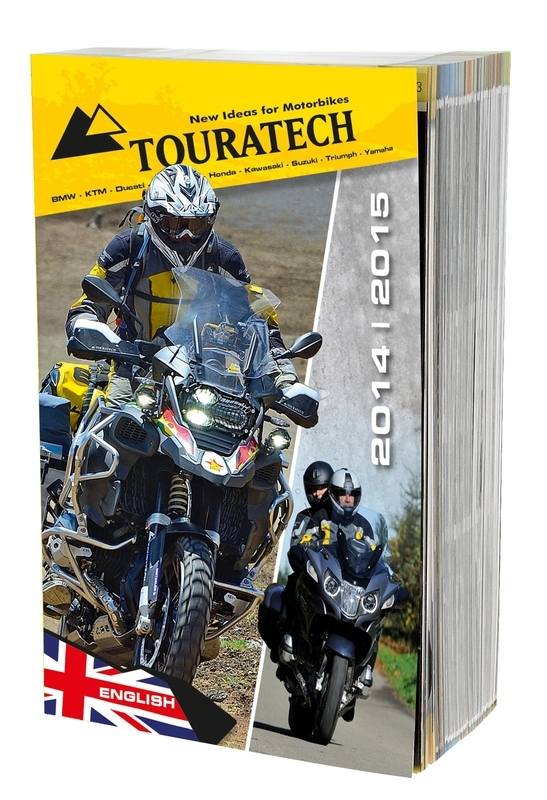 "Made for Adventure" – a theme that runs like a thread through the new Touratech catalogue, which is now available. And this does not only apply to BMW Adventure bikes, but to adventure riding in general – the promise of exploring the world on two wheels, meeting new people, discovering new places, and of course the fun of motorcycling.

On more than 1,860 pages (yes, it's even bigger than before!) Touratech presents an extensive range of products for all current adventure and touring motorbikes, with many interesting new developments for almost every model. True to form, Touratech already offers all kinds of accessories for the new BMW R 1200 GS Adventure, and some sensational footage from the world's first adventure trip with this bike is on the way – the film from the test tour in Zimbabwe will be out in early summer. The Black Forest accessory manufacturers also turned their attentions to the new BMW R 1200 RT, giving the touring boxer some added extras.

But there's so much more in the new Touratech catalogue: plenty of bright ideas for touring and motorcycling, the biggest ever range of proprietary seats, the latest GPS and outdoor products, and Touratech's new version of the Compañero – the Compañero Boreal. This Touratech riding suit is made from a high-quality three-layer laminate with climate membrane. It is designed to be perfect for bikers who see little of the southern sun but frequently take to the road in rainy northern climes.

Touratech has created a limited edition Dakar collection to celebrate the legend of the famous rally and commemorate its own sporting history with a Touratech Dakar team. Featuring exciting styling and officially licensed designs, the products range from T-shirts and polo shirts, jackets, caps and scarves, to rucksacks, bags and rackpacks.

The Touratech Suspension range has grown significantly and now includes Touratech Suspension DDA Plug & Travel – the world's first semi-active suspension system for the R 1200 GS, specially developed for challenging adventure riding.

You can find all this and much more in the new Touratech catalogue, which as usual contains a large editorial section to browse at leisure: travel reports from Africa, Iceland, Morocco and Arizona, a look back at the Travel Event and BMW Motorrad GS Trophy in Niedereschach, and lots of information about what's been happening at Touratech.
To help you navigate your way through this mammoth publication, the Touratech catalogue includes a detailed index and clear table of contents. The first section is dedicated to special parts for specific motorbikes, with individual models sorted alphabetically and in descending order of engine size. The middle part contains sections on luggage, seats, Touratech Suspension and universal motorcycle accessories, followed by rider, navigation and travel equipment.

Two hundred thousand copies of the 2014/2015 Touratech catalogue with its 1,860 pages are being printed in five different languages and will be available at all major trade shows and events where Touratech is represented, as well as from Touratech distributors.

Copies can be ordered by phone, e mail or via the internet – free of charge, as always – and soon the catalogue will also be available online at www.touratech.com. The online version is designed to work on smartphones and tablets as well.