Brandon's Harley Davidson wish fulfilled as 400 bikes ride out
Posted on
It was a dream come true for Brandon Carter as he was whisked off for a ride on a Harley Davidson.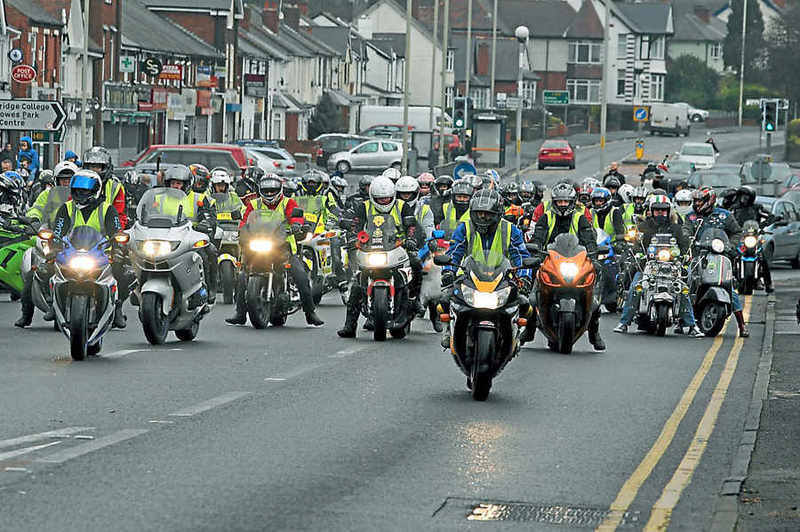 Hundreds of bikers and pillion riders turned out in support of the 26-year-old. Mr Carter from Colley Gate has been diagnosed with terminal cancer but wanted to fulfil his wish of taking to the seat of his dream bike.
Organisers had originally planned a small gathering but as word started to spread, more and more people wanted to join in and help raise money. And on Sunday 12th January 2014, around 400 bikes descended on Streetbike in Halesowen to set out on a ride to Quatt Cafe near Bridgnorth.
The group which included several marshals set off at about 11am with police stopping the traffic to allow them to leave the site. They travelled to Stourbridge and then on to Enville and Six Ashes before arriving just outside Bridgnorth. Mr Carter, who was diagnosed with a melanoma in November, said he was 'shocked' by the huge turnout.
"It was a surprise. I wasn't expecting so many people. "I'm a big fan of Harleys from watching films" he added.

His uncle David Brenton said he was 'bowled over' by the turnout. "The number of bikes there was unbelievable. I am so grateful from the bottom of my heart. This is exactly what Brandon needs and hopefully will give him a bit of a lift."
One of the organisers, Stewart Boggild, 26, from Bridgnorth Bikers, said: "This is what bikers do. We are a family. We like to support each other. When word got out on Facebook about the event, we couldn't believe the reaction. Before we knew it we had almost 280 people sign up. I'm the same age as Brandon and it was important for me to get involved because of what he's going through," he added.
Streetbike director Gary Marshall said he was 'delighted' to support the event. "I don't think bikers always get enough credit. It is a real community and an event like this shows how people pull together. I was very happy to be involved."
Collections were held at the event to raise money for Brandon and Macmillan Cancer Support.

Article supplied by Express & Star