Touratech Celebrates the Spirit of Dakar
Posted on
Limited edition collection pays homage to the legendary desert rally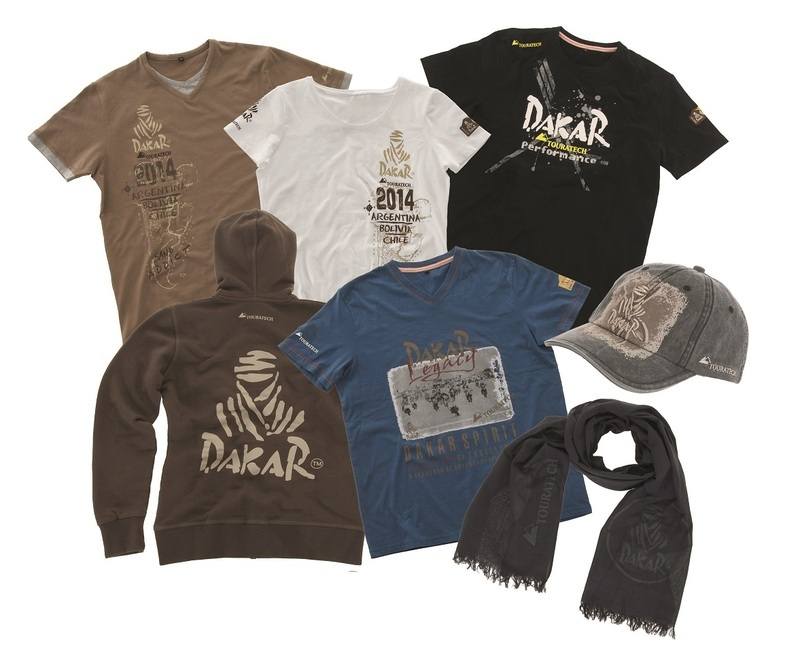 Without a shadow of doubt, the Dakar is the toughest rally in the world. Touratech has created its own collection featuring officially licensed DakarTM designs to celebrate the history of this legendary rally. Awesomely styled shirts, jackets, caps, bags, rucksacks and more let you live the spirit of Dakar. Many items are already available from the Touratech web shop.

Touratech has various links with Dakar that go back to the early 1990s, when the Black Forest accessory specialists first got involved with the rally. Jutta Kleinschmitt and Michael Griep bolted an IMO 100R into their cockpit as they set off for Africa in 1994.
Twice Touratech actually lined up for the start – in 2001 with French rider Didier Py on a Touratech F 650 Rallye, and in 2002 with their own full team of five riders. Touratech caused a sensation by becoming the first team in the history of this extreme desert rally to get two motorcycles with injection engines to the finish line at Lake Retba. And not to forget Charley Boorman's "Race to Dakar" in 2006 – the motorbikes for this project were built up by Touratech at Niedereschach.
Even though Touratech no longer send their own team to the race, they are still represented at the Dakar. For several years, Touratech has supplied French company ERTF with "made in Niedereschach" equipment for the competition bikes and quads, such as IriTrack holders and special handlebar mounts for Dakar GPS devices.
All good enough reasons to produce a special Touraatech DakarTM collection in close partnership with the organiser, ASO. Elaborately designed T-shirts and polo shirts in women's and men's cuts, a range of caps, a trendy hoodie, scarf and beanie for cold weather and a mouse mat with exclusive DakarTM styling are already available. More products including jackets, bags, caps, rucksacks and rackpacks are on the way.
The DakarTM collection appears in the new Touratech catalogue, which is available from 10th January 2014, and in the Touratech web shop at www.shop.touratech.com