Sky's the Limit: MotoGP Riders Playing Poker in the S
Posted on
A different kind of high for bikers and card enthusiasts
When put under the scrutiny of a sports analyst, both bike racing and the tactical game of poker share one key resemblance: being the sport of daredevils. Bike racing involves guts, skill, and strong focus so you can ride your bike easily through the track. It also helps to have a keen sense of the area to avoid possible collision with fellow riders. Alternately for card players, one must employ the same courageous approach but it should be coupled with a strong sense of logic and tactical thinking.
See, these two sports are often fancied by the adrenaline junkies what with all the intensity that comes during the final lap of a race or with the thrill that comes from holding a powerful poker hand.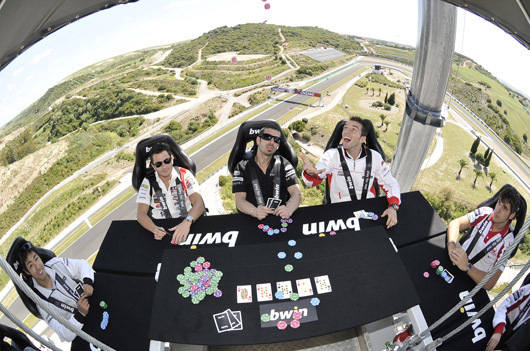 Luckily fans of the iconic MotoGP racing, both sports have reached a new high. Last 2009, the fans of the biking world and the felt tables were given a treat with Bwin's own poker in the sky. This MotoGP event in Jerez combined both sports by placing a poker platform up in the sky above the place's race circuit. After the bikers finished the final laps in the race track, the riders were suspended up in the sky to play a round of poker where the racing legend Randy Mamola even graced the event. The event's sponsor, Bwin, is also the operator of the online poker site partypoker.com, which makes the organization a credible host of both card players and bike riders. A year later, Bwin also sponsored another MotoGP event, but this time of a different approach—the seascapes. The event brought another thrill for the poker players and bike riders by taking the card competition aboard a luxury yacht.
The future of biking and poker
While we already have towering land-based casinos, floating casinos to add to the rich waterscapes, and even poker tables in luxury planes, there's much too see when it comes to the future of the card industry. Similarly in the biking world, the limits of our imagination are constantly stretching.
Just this June, hover bikes were introduced at a convention in Prague. Although the models are yet to be released, this prototype can pave the way to the future of the biking industry. Who knows, with this introduction of the electric bike, we may soon find hover bike circuits in a few years time. We may even witness airborne stadiums which are only seen in the movies. Although it may be a long shot, the futuristic and sci-fi movies and videogames often spark the imagination of today's engineers and scientists. These prototypes are often built as a result of creativity and imagination.