Motorcycle Live hails royal turnout
Posted on
Motorcycle Live 2013 came to a close today after a nine-day biking bonanza at the National Exhibition Centre in Birmingham with organisers claiming it as one of the best shows ever.
Exhibitors declared themselves delighted with both the quality and quantity of visitors, of whom more than 106,000 poured through the doors of the NEC into four halls filled with motorcycling.
With more than 230 exhibitors covering 65,000m2 of NEC hall space, Motorcycle Live opened its doors on 23 November and has been packed with live features, shows, entertainment and even a cinema showing a movie on British motorcycle racers commissioned especially for the show.
As well as a number of important new model launches, Motorcycle Live has also featured no fewer than nine opportunities to ride motorcycles, eight of which were within the halls of the NEC. Along with the live features and entertainment, all these were free with the entry price.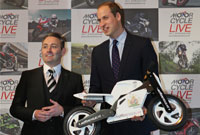 The show received a right royal boost on its penultimate day when HRH Prince William Duke of Cambridge visited several manufacturers' stands to size up a few of the many new models for himself and to chat with some of the show's visitors.
"The show has been fantastic!" said Harley-Davidson experiential marketing specialist, Marta Ostrowska. "We've been really busy and we've seen a lot of new customers. It's felt a lot busier this year and our dealers are reporting really positive feedback already."
Steve Clifford, sales director of Feridax, whose brands Sidi, Shoei and Spada sponsored Motorcycle Live's Test Ride Zone commented: "We've concentrated on supporting our premium Shoei helmet brand this week and it's been really busy for us. We've had a lot of enquiries and noticed a definite improvement in the quality of visitors to the show, and Shoei has really complemented that."
Motorcycle Live organiser, Dean Linehan, was bubbling with enthusiasm as the curtain came down on Motorcycle Live 2013: "I think this really has been one of our best shows to date, helped, in no small way, by some fantastic new models that many of the manufacturers have introduced here."
He added: "It was topped off by the visit on Saturday of The Duke of Cambridge, who demonstrated the same levels of enthusiasm for motorcycling that is shared by all the show's visitors. We're positive that this will give the entire UK motorcycle industry an important boost for 2014 and beyond."
Motorcycle Live has released a video on yesterday's visit by HRH The Duke of Cambridge, which you can view by clicking here.