British Bikers Association, BBA Gets Ready For Launch
Posted on
It's being described as being 'worth waiting for' and this May sees the long awaited arrival of Britain's newest and most radically vibrant motorcycle association to hit the high street and net for many years.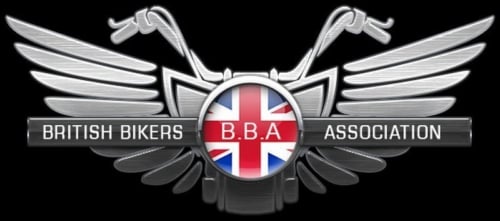 The aptly named British Bikers Association (BBA) will launch their action and information packed website on the 1st of May 2013 where visitors will be able to browse exclusive content and get involved in the latest debates from the very moment they log on.
The BBA team is headed up by Chairman Colin Mahoney, who emphasises that Great Britain needs to more than meet the needs of the modern rider. Colin who is a multi brand biker of many years is confident that the BBA will mark a sea-change in the way that campaigning groups interact with their most important stakeholders - the people that make up the numbers, the members themselves.
Colin, who feels slightly embarrassed by the term 'Chairman', speaks his mind with regard to the lifestyle that has become dedicated to. "We all know that the world of motorcycling moves at an ever increasing pace, whether it's new bikes, safety equipment, technology, British bike conservation or unfair and ill prepared legislation that we have to abide by.
"The British Bikers Association has been specifically designed and built to reflect that rapid pace of change by providing up to the minute news, advice and for a refreshing change real 'sledge hammer' campaigning clout to its members. We want to set a rigid but fair agenda when it comes to securing better deals for all bikers in all aspects of our lives. I see bikers as individual amongst other motorists and that's something only another biker will understand. I've been out there campaigning and gathering opinions for some time now and I think that listening to our members and responding quickly to what they are saying to us is an important first step if this new organisation is to stand any chance of competing and living up to our reputation."
Colin has been actively involved with motorcycling activities for over 30 years. His attitude is that there are far too many shortcuts being taken with peoples' lives in today's Britain and it's only those that shout the loudest and gather the most support that survive; and he sees himself as a survivor.
He believes that it is nothing other than crass hypocrisy where local councils are effectively giving themselves their own permission to leave life threatening pot holes for unsuspecting riders under the petty excuse of 'having no money' whilst cluttering the landscape beyond recognition with unnecessary road and information signage. He feels some outrage as he watches 'broke and cash strapped' Councils painting our rural roads to look like urban puzzles by more expensive and even more unnecessary road markings that creep forever further and require expensive and extensive maintenance. This seems to serve no other purpose other than to give Council employees employment that offers no advantage to the road user. Signs increase whilst roads crumble; and that isn't justifiable no matter what your politics.
He speaks out about directives handed down from Europe that often have unintended consequences. He feels that the Association must realistically represent the biking community by using the best in modern technology that will offer its members the service that will keep them informed about the current issues that affect them every time they get on their bikes- wherever they are.
"As bikers ourselves we know what sort of action we want when we have a justifiable gripe against the unjustified, and that the BBA will be the organisation that precisely reflects the mood of our members. That's why our Biker's Voice app puts the power to build cohesive networks of riders right in the palm of their hands. Having a voice is being heard and being heard is persuasive power.
"They might be out and see one of the many yawning potholes in the road, or there may be a major road traffic incident or a 'cool - must go to' event they'd like to publicise by providing times and venue locations. Biker's Voice makes all this possible with just a few swipes of a Smartphone and means that wherever they are, our members feel like they are part of a responsive organisation that is there to campaign rigorously in their best interests."
Innovations for new and very welcome recruits do not end there. With many publishers prepared to continue trying to exploit old publishing models, much of their content remains 'Advertisement driven', repetitive and static for months on end as you will all well know. The BBA's purely electronic mode of delivery means that the latest news from the world of motorcycling is sent straight to members' Smartphones and email inboxes as soon as it breaks to us.
It's an approach that Colin and the team believe is vital to maintaining the BBA as a progressive and developing organisation equipped to give its members the best deals possible: "£15 (or 4 pence a day) gets you a year's subscription, and that includes a free bi-monthly e-zine, full access to the Biker's Voice app and the fast-track to some of the most exciting motorcycling features around. It also means you'll become part of a genuine democratic and meaningful campaigning voice for bikers throughout the British Isles."
Colin concludes, "Like the United Kingdom that we are all proud to be a part of, it is made up from many fragmented communities. Sometimes when we exist apart we're just isolated single-interest groups; but together we're a force that can safeguard and promote motorcycling for the enjoyment of future generations. I want to be able to say 'I was there at the beginning'."
For more information on the BBA - including how to join and the benefits of membership.
Colin Mahoney
British Bikers Association
01772 452135
www.BritishBikersAssociation.Org
[email protected]