Prescott Bike Festival 2013 raises more than £35,000 for Blood Bikes
Posted on
The third annual Prescott Bike Festival took place on Sunday 7 April 2013 and raised in excess of £35,000 for the Nationwide Association of Blood Bikes and one of its member groups, Severn Freewheelers.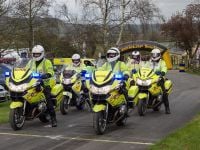 The event attracted more than 4,500 visitors who enjoyed an action-packed day where rare classic, modern and famous bikes took to the historic hill, from Nortons, BSAs and Velocettes, to extreme custom Choppers and well-known superbikes such as the John Reynolds ex-Reve Red Bull Ducati 996RS Championship bike and the David Jeffries' Suzuki GSXR1000 TT (which will be appearing at the Isle of Man TT next month for his 10th anniversary of Davids death).
The festival was supported by many motorcycle clubs and dealers including those representing Ducati, Honda, Yamaha, Suzuki, Kawasaki, Enfield, Triumph, AJP, Harley, Victory, BMW and KTM. Speaking at the event Chris Waldron, General Manager of the Blade Group said "We have supported Prescott Bike Festival for the past three years; the event is an obvious place for us to showcase our three brands, Triumph, Harley Davidson and Victory. It's great to be able to take our showrooms outdoors to a large dedicated motorcycle audience at a convenient and unique event".
Despite the unseasonably cold weather, all 200 tickets for members of the public to "Ride the hill" were sold out months in advance, as was the special feature this year, "Happy Hour" - the public's opportunity to see, hear, get up close and watch some special motorcycle machinery.
Not surprisingly, passenger thrill rides in an Aprilia sidecar, the new Morgan Three Wheeler, the Carver One and the Scorpion 3 sold out. Throughout the day there were demonstrations by the Scott Redding Mini Moto Academy, Simon Welsh Trials Team featuring the Youth Development Squad, Skyzone Racings' Chris Hodgson (current British Supermoto Champion), the NHCA Masters, the Classic 50cc Racing Club and motorcycle adventurer Nick Sanders, who has motorcycled around the world seven times.
Off track, the paddock was crammed with bike displays, motorcycle trade stands and a host of entertainment with live music from UK hot rocking band, Josie and the Outlaws, and covers band, Come Up and See Me. In addition there were roaming actors from the 501st Garrison, the world's largest and most accurate Star Wars costuming club, and, back by popular demand, the George Formby look-a-like from the motorcycle film, No Limit? One particular highlight was a surprise appearance from the Cheltenham Pipe Band – who says motorcyclists aren't eclectic!
In amongst the fun, were serious messages too - exhibitor Chris Harrison, Motorcycle Coordinator from the Gloucestershire Road Safety Partnership said "Prescott Bike Festival is a prime place to get the Think Bike message out there to a large motorcycle audience. We are here today to provide advice to riders about the training available locally through Bikesafe, IAM and RoSPA and other precautionary measures that riders can take out on the road. In Gloucestershire 84% of all motorcycle collisions involve another vehicle, and whilst it's hoped they will never be needed, we are handing out free crash cards. Its a scheme where a rider places a crash card inside their helmet providing emergency contact details for ambulance crews in case they are injured in an accident. So far we have distributed over 3,000 in the county and 500,000 nationally".
Festival organiser, Gordon Downie, said, "Prescott Bike Festival raises vital funds for the Nationwide Association of Blood Bikes, it's the charity's biggest fundraising event of the year and we are delighted that it has become a firm annual fixture in the motorcycle calendar. We are hugely grateful to all the exhibitors, bike clubs, dealers, marshals, volunteers and visitors who continue to support us and have helped make the event such a success. Plans for the 2014 event are already underway".
Cheltenham Mayor, Councillor Colin Hay, came to support the event, he is a volunteer Blood Bike rider with the Gloucestershire branch of the Severn Freewheelers. When asked "so why do you do it", he simply replied "I love riding, it is so rewarding being a volunteer. The hospitals are so grateful for the service that even on the bleakest of nights when you are freezing cold on a call out, you don't mind, you have a sense of purpose – that ride just might save a life. What a terrific way for me to use my hobby for another benefit".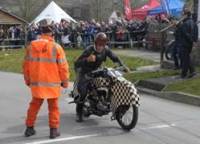 Did you 'Ride the Hill' at Prescott Bike Festival? If so, why not buy a picture of your hill run, using the link on the Prescott Bike Festival website.
All proceeds from pictures bought will be donated to the Nationwide Association of Blood Bikes.
The Nationwide Association of Blood Bikes is the umbrella organisation representing 24 regional blood bike charities, all providing a motorcycle-based, free delivery service to the NHS; moving vital medical supplies, blood and pathology samples from medical centres and hospitals throughout the UK. Recently NABB member groups have become involved in the transport of frozen human milk from the donor to the milk processing hospitals. This has been a real lifesaver due to the necessity of very premature babies having intolerance to anything but human milk.
Run entirely by volunteers, NABB member groups have over 1500 active members with a fleet of 88+ emergency response vehicles. All NABB riders are trained in the movement of medical essentials and operate from individual regional charities but with a common goal – to alleviate suffering and reduce the funding pressures on the NHS. NABB was formed in 2010 and is chaired by Gordon Downie, from Gloucestershire.
Severn Freewheelers is the regional Blood Bike group operating in Gloucestershire, Hereford & Worcester and North Wiltshire. Over 70 volunteers help Severn Freewheelers carry out a much-needed service. Severn Freewheelers runs four BMW R1200RTs and a Honda ST1300, all are emergency response equipped and the members handle some 3,500 call outs per annum, covering 140,000 miles. ?They work from 7pm in the evening to 7am the following day and all day at weekends. Each "shift" consists of four people, three riders and a dispatcher. The dispatcher fields calls from the hospitals and plans the route for the evening based on the calls received. Emergency calls are obviously dealt with first and for these we use blue lights. All riders are volunteers. All receive extra training in emergency response riding and go through a first aid course. In short, a professional team delivering a professional service, FREE to the NHS at the point of use.
Volunteers join for many different reasons. Below are just three examples:
After spending two years watching my mother be treated by the NHS for cancer I wanted to do what I could, to give something back, to say "thank you". I joined Severn Freewheelers and have spent two years riding and helping deliver our service to our customers. I think my mum would have approved. Paul
Although I was aware of SFW from its formation, it was only during my late wife Lindsey's hospital treatment that their day-to-day work became apparent. During her inpatient treatment at Cheltenham & Bristol hospital out of hours, units of blood and platelets were delivered by SFW and the Avon team. Although Lindsey did not survive we were grateful to everybody involved for giving her the best opportunity to overcome her leukemia. David
My elder son was diagnosed with leukemia when he was two and a half and since then I have given blood, whole and platelets, as I saw how much he needed of both. Joining SFW was an extension of this and a way of helping a health service that gave him so much. He was treated in Gloucester & Bristol hospital and is now a large, robust 28 year-old. Ian Stockwell
Severn freewheelers are a charity organisation and are always looking for help. If you feel that you would like to volunteer to either ride, dispatch, provide help with event fundraising, or offer financial aid, sponsorship or product – please contact us at www.severnfreewheelers.co.uk, or contact Edward on: 01527 544 292
To sustain Severn Freewheelers need around £28,000 per annum to provide the service. It is estimated that the service saves the NHS some £280,000. Please see below where the money goes:
• £300 pays for fuel for one motorcycle for one month • £400 pays for one motorcycle's annual insurance premium • £600 pays for our liability insurance for a year • £1,000 pays for six months depreciation for one motorcycle • £2,000 pays for our motorcycle servicing costs for one year • £7,000 enables us to buy a new motorcycle • £7,500 enables to fully run one motorcycle for one year
Your contribution, however small, could save someone's life, maybe your own...