Kawasaki UK supply Leon Haslam with a Supermoto spec KX450F
Posted on
Known for being a big fan of all forms of two-wheels, Kawasaki British Superbike rider Leon Haslam's latest venture is Supermoto and, as a result, the latest addition to his garage is a Supermoto spec Kawasaki KX450F.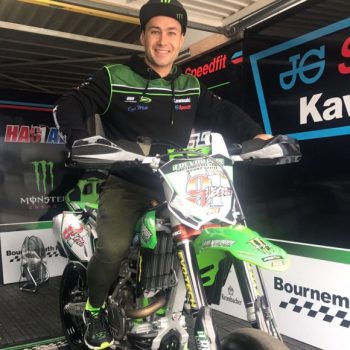 The highly modified KX machine was sent to Trevor Pope Motorcycles in Gosport – an experienced Supermoto machine builder – who turned the lime green machine into a Supermoto special.

The standard cast Triple Clamps were replaced with an X Trig 16mm Offset Triple Clamp Front End Yoke Set to improve stability, turning and strength. It has a pair of slick Dunlop tyres and the front has been fitted with a Beringer oversize Front Brake Caliper to accept the 320mm oversize wavy Disc to cope with the extra, heavy braking required – there's a wavy disc on the rear too. The standard clutch has been changed to a Sutter Slipper clutch too – which is essential to enable the rear wheel to break and gain traction. The machine has also received SAMCO Silicone Radiator Hoses – in green, of course, plus much more…

Leon Haslam said: "I can't wait to get to have a play on it! Kawasaki have been kind enough to build me a full racing bike – I've seen the odd picture of the bike as it's been built but to see it in the flesh now is awesome.
I got into supermoto over the winter for training ahead of the British Superbike Championship. I train out in Spain with the Lowes twins – we ride pit bikes, motocross and supermoto – and was borrowing their bike, so I was keen to get one of my own. From my perspective, I'll be using it mainly for training. There's lots of good spots we go to in the UK too – we usually ride them on pit bikes so to attack them on a super KX450F will be good fun!"
To view the full range of KX machines, visit: www.kawasaki.co.uk