The Distinguished Gentleman's Ride | 24th September 2017
Posted on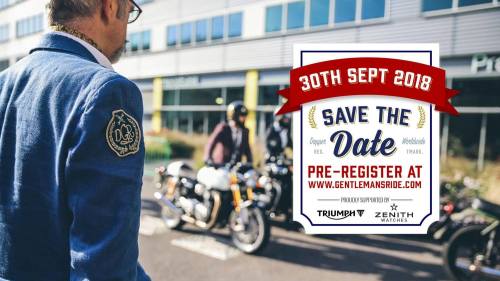 For one day a year, however, thousands of Distinguished Gentleman (and genteel ladyfolk) in hundreds of cities worldwide press their cravats, starch their tweed and sit astride their classic-styled motorcycles to raise funds for prostate cancer research and awareness.
It's a day all about spreading merriment, while raising awareness of a really important issue, that affects 1 in 8 blokes across the world. The fundraising supports research into Men's Health by bringing together dapper riders of classic machines, cafe racers, bobbers, custom motorcycles, trackers and undefinable two-wheeled creations.
The Distinguished Gentleman's Ride is a celebration of the art of being dapper and the style of classic custom motorcycles. What does that mean, you ask? Think: Monocles, jaunty trimmed moustaches, silk vests, crisp shirts and tailored suits. Ride: Café Racers, Bobbers, Flat Trackers, Scramblers and quirky, undefinable two-wheeled machines. The styles of bike should be reflective of classic motorcycle nature. Think 1970's and the decades before them. Do: Bring your finest manners, neatest beards and a sense of fun and adventure.
Pay: Nothing to ride (entry is free); but please consider helping our charities by getting your friends and family to sponsor your involvement. Or buy a patch, cap or tshirt. Every little bit helps. Dapper for a Cause: Where we've come from and where we're headed.

In 2014, there was 20,000 smartly-dressed gentlefolk in 258 cities across 57 countries.

In 2016, there was more than 56,000 dapper riders in over 500 cities across 90 countries, that united for the world's largest motorcycling charity event upon their classic & vintage styled motorcycles, in the name of men's health.
venue: Thousands of riders in 500+ cities across the globe will 'join the gentry' on a ride to raise money for the Prostrate Cancer Foundation. Please note below are UK and Ireland events. Lots more listed on the website and facebook.
London event | Manchester event | Birmingham event | Bournemouth event | Bristol event | Bury St Edmonds event | Cambridge event | Chester event | Coventry event | Cumbria - Furness Peninsula event | Derbyshire event | Devon event | Doncaster event | Exeter event | Hampshire, Solent event | Isle of Wight event | Lancashire event | Leeds event | Lincoln event | Liverpool event | Maidstone, Kent event | Newcastle event | North Yorkshire event | Northampton event | Nottingham event | Oxford event | Peterborough event | Plymouth event | Stoke event | Swindon event | Tamworth event | West Sussex event | Worcestershire event
Cardiff, Wales event | Pembrokeshire, Wales event | Rhyl, Wales event |
Belfast event | Clonmel event | Cork event | Dublin Ireland event |
Aberdeen, Scotland event | Edinburgh, Scotland event | Glasgow, Scotland event | Inverness, Scotland event | Killin, Scotland event

website: www.gentlemansride.com
facebook