Car mad Felix has his sights set on helping road users with IAM RoadSmart – at age three!
Posted on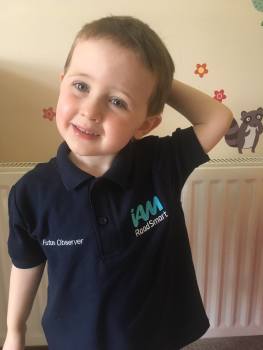 When three-year-old Felix Behan saw his dad wearing his new IAM RoadSmart polo shirt, the youngster proved he was a chip off the old block by asking for his own version of the road charity's official shirt.
And not wanting to let the youngster down, the UK's leading road safety charity duly obliged and came up with a bespoke child's edition of the navy blue IAM RoadSmart polo – with 'Future Observer' embroidered on the front!
Felix's dad Ashley is group secretary for Lincoln Advanced Motorists, an official provider of courses and advice from IAM RoadSmart.
Ashley said: "Felix understands quite a lot about the work I do with IAM RoadSmart – he knows I go out and help people enjoy their driving and be safe. As soon as he saw me wearing my IAM RoadSmart polo shirt, he asked if he could have one just the same!
"When he saw the package he was so excited and wanted to put the shirt on right away."
Ashley added: "Felix loves everything about cars; they are all over his room. He switches from wanting to be a bus driver, to a racing driver to a lorry driver, but we'll see what happens."
Felix now has a younger brother; six-month-old Milo. We have yet to discover if Milo wants an IAM RoadSmart baby-gro yet…!