Bikers Are Revved Up And Raring To Go!
Posted on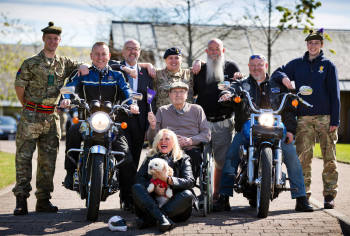 It's not long now before a bevy of bikers descend on the Erskine Estate in Bishopton for the annual Erskine Motorbike Meet.
Last year's event was the biggest Motorbike Meet yet, with nearly 800 bikers taking part in the parade and over £12,500 being raised for the veterans of Erskine. This year's event takes place on Sunday 28th May.
Recently a number of bikers, cadets, military personnel, officers from Scottish Police, representatives of Paisley 2021 and Milly the biking dog, visited the Erskine Estate in preparation for the big day.
Erskine supporter Heather Clissett, who organises the event, got the group together to promote this year's event. She said: "The Erskine Motorbike Meet has grown larger than we could ever have hoped, in its 11 years."
"We hope all who visit the bike meet, know how much their loyalty to, and respect for, Erskine's veterans means. We are so grateful and appreciative to them for never failing to turn out and we hope they realise how much it means to all at Erskine and the respect we have for all our two and three wheeled visitors."
Anyone who has attended the popular event will know the parade of bikes and trikes, which begins at Park Mains High School in Erskine at 12.40pm, is quite a spectacle. The bikers take around 20 minutes to make their way along the seven mile route to The Erskine Home where there are lots of attractions on offer for an entertaining afternoon for bikers and visitors.
This year's entertainment includes fairground rides, Port Town Rockers, Kennedy Cupcakes, UK Garrison, Irvine Marine Cadets & Sea Cadets display, Glasgow Science Centre buskers, Pin Ups Vintage, Paisley 2021, a photo booth and lots of street food. There is also military support on the day including 7 Scots who will have a deactivated weapons display, the Royal Artillery with their light gun display and 225 Medical Regiment with their ambulance.
There are a number of first's this year at Erskine Motorbike Meet including a Boccia Bowls match with Bikers v Veterans. Playing a game against our veterans is Rigbys Guardians MCC Scotland – who promote and preserve the memory of murdered Fusilier Lee Rigby. The group also raise money for veterans' charities including The Lee Rigby Foundation that was set up in Lee's memory.
There will be music from Balaklava Pipes and Drums and The Band of the Argyll & Sutherland Highlanders Regimental Association. There will also be two luxury cars – provided by Met Wedding Cars – so this year Erskine veterans will be able to take part in the bike parade in the comfort of a luxurious wedding car!
The Erskine Motorbike Meet takes place on the Erskine estate from 1-5pm. Entry is £5 per bike and £2 per adult (free for children) with parking available at HP, Bishopton, PA7 5PP which is a short walk from The Erskine Home or you can hop on the shuttle bus kindly provided by McGills.


28th May 2017
Erskine Motorbike Meet

Annual event to support the veterans cared for by Erskine with 100's of bikes taking part. Starting with a parade from Park Mains High School to Erskine's grounds for 1pm official opening. Live music, food, demonstrations, stalls and much more. All welcome.
venue: Starting with a parade from Park Mains High School, PA8 6EY at 1240 to Erskine (Hospital) Bishopton, Renfrewshire, PA7 5PU
price: £5 per bike donation to Erskine on the day. £2 per adult (free for children) with parking available at HP
tel: 07814 984082
website: www.erskinemotorbikemeet.co.uk
facebook
twitter
e-mail: [email protected]
Erskine is a family. Our strength lies in the very special blend of dedicated care, compassion and understanding we offer to our residents and their families. When Erskine was founded in 1916, our aim was to care for Service men and women who had been injured in active service. Today, care remains the cornerstone of our philosophy. We not only care for our veterans – we care about them.
As Scotland's foremost provider of care for veterans and their spouses, we provide unrivalled nursing, residential, respite and dementia care within our four homes across Scotland. Our person-centred care is tailored to the needs of each individual veteran.
Erskine's proud history also extends beyond its provision of medical and nursing care by employing and promoting all employment opportunities for veterans and offering housing to veterans and their families in 44 cottages within Erskine estate.

As a charity, we rely on the generosity of our supporters to maintain our commitment to care for Scotland's veterans – without donations we simply cannot continue this work.