WHATS ON this weekend - From 13th April 2017
Posted on
16th April 2017
All Day Kawasaki Sunday - "Let the Good Times Roll"
venue: Ace Cafe, Ace Corner, North Circular Road, Stonebridge, London, NW10 7UD
price: free
tel: 020 8961 1000
website: www.ace-cafe-london.com - www.acecafeevents.com
facebook
e-mail: [email protected]
16th April 2017
Moorlanders MCC 19th Egg Run
Moorlanders MCC will be holding the 19th Egg Run as usual on Easter Sunday. An annual motorcycle event that raises thousands of pounds for children's charities in Cornwall.
Bikes of all types are welcome to take part, as the route is carefully planned and marshalled to be safe and enjoyable for everyone. There'll be awards and trophies for the best bikes and a raffle and burgers at the end. Arrive with a full tank please. £5 donations will be collected per bike for the charities Action for Children, Children's Hospice South West and the special needs units of Camelford and Launceston primary schools.
venue: Davidstow Airfield, Camelford, North Cornwall PL32 9YF. From around 10am.
price: £5 per bike. Donations of chocolate eggs as well are welcomed
tel: 01208 816554
website: www.moorlandersmcc.co.uk
facebook
facebook event
e-mail: [email protected]
16th April 2017
Kilham Bikers - 21st Charity Easter Egg Run
Charity Ride-out from Bay Horse, from 9.30am with ride out starting at 11am. In aid of SNAPPY - York which provides support for children with special needs and deliberating illnesses a very worthwhile cause. There will be a Auction, Raffle/Tombola starting at 7.30pm at Bay Horse, Kilham. Everyone welcome to come along and join in the fun. Kilham Bikers have been raising money for worthy causes throughout the Yorkshire area for over 20 years.
venue: Bay Horse, Kilham, Driffield, East Yorkshire, YO25 4RL from 9.30am to leave @ 11am to Martin House, Wetherby, LS23 6TX
tel: 01262 420399
website: www.kilhambikers.co.uk
e-mail: [email protected]
16th April 2017
Glasgow C.H.E.E.R Easter Egg Run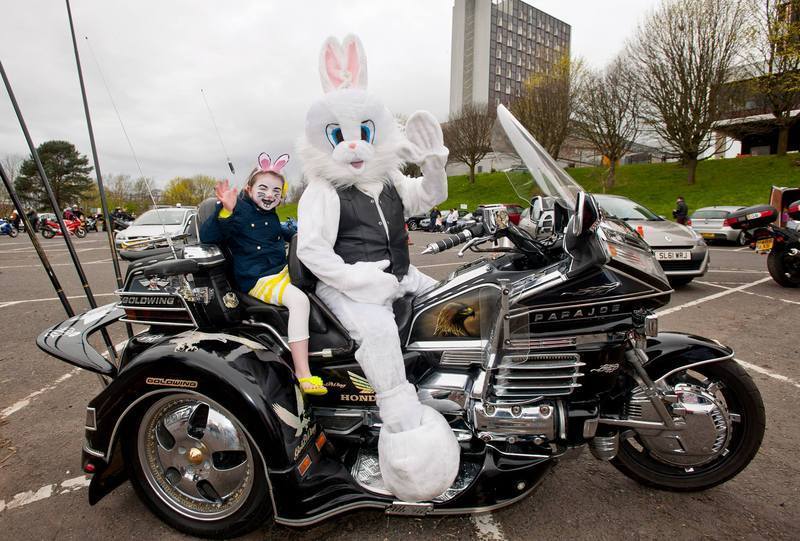 The annual Motorcycle Run in aid of Glasgow Children's Hospital Charity (formally Yorkhill Children's Charity). One of Scotland's largest motorcycle runs as thousands of motorbikes, trikes and scooters parade through the streets of Glasgow to help raise funds.
The route takes in the city centre and west end, including the traditional, spectacular ride-out along Great Western Road, before finishing at Royal Hospital for Children, Glasgow to ring a smile to the face of the children, entertainment, stalls, games and family fun.
venue: Bikers are invited to assemble at the SECC Car Park 7, Stobcross Road, Glasgow, G3 8HQ from 10am, leaving at 11am and finishing at the Ogilvie Car Park by the Royal Hospital for Children.
price: We would encourage bikers to make a donation rather than bring eggs - the hospital is inundated with treats that most of the children cannot enjoy due to special diets or being 'nil by mouth'. Suggested donation of £10 per bike. Spectators free of charge.
tel: 0141 201 6917
website
facebook
facebook event
e-mail: [email protected]
16th April 2017
Motorbike Awareness Day
Come and have a chat with Carmarthenshire's Road Safety Unit, Dyfed Powys Police, Mid and West Wales Fire and Rescue Service, RoADAR, IAM, MAG and Blood Bikes Wales. Enhanced Rider Scheme Taster session available and you can also pick up a CRASH Card.
venue: Owl's Nest Tea Room Diner, Lower Road, Llandovery, Carmarthenshire, SA20 0DJ. 11:00 – 15:00. Local Accommodation
price: free event
website
facebook
facebook event
e-mail: [email protected]
16th - 17th April 2017
Red Marley Hill Climb
A unique weekend event for off-road classic motorcycles. A pre-65 trial on Easter Sunday and a classic Hill Climb on Easter Monday.
venue: Great Witley, Worcestershire, WR6 6JJ. Local Accommodation
price: £10. Children under 11 free.
tel: 01886 888803
website: www.redmarleyhillclimb.com
facebook
e-mail: [email protected]
16th - 17th April 2017
Cadwell Park Count of Cadwell Championship
venue: Cadwell Park Circuit, Louth, Lincolnshire, LN11 9SE. Local accommodation
price: see website
tel: 0843 453 9000
website: www.cadwellpark.co.uk | www.auto66.com
facebook
facebook event
e-mail: [email protected] | [email protected]
Easter Monday 17th April 2017
Ashford Classic Motorcycle Show & Bikejumble
Large indoor motorcycle-only Show for pre-1990 machines with Club stands. Large indoor and outdoor Bikejumble with new and used spares, bikes, clothing & accessories for sale. Everything for the classic motorcycle enthusiast.
venue: Ashford Livestock Market, Orbital Park, Ashford, Kent, TN24 0HB
price: £5 adults, £4 65+ over, kids under 16 free.
tel: 01797 344277
website: www.elk-promotions.co.uk
facebook
e-mail: [email protected]