Eddie 'the Eagle' Edwards to attend Prescott Bike Festival – Sunday 9th April
Posted on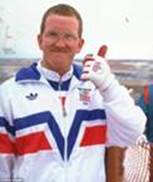 British sporting hero Eddie 'The Eagle' Edwards will be heading to the slopes of Prescott Bike Festival to support the Blood Bikes. Prescott Bike Festival is the charities biggest annual fundraiser and takes place at Prescott Hill Climb, Cheltenham.
Festival Organiser Gordon Downie said 'We are delighted that Eddie is coming to Prescott Bike Festival. Eddie is a fearless man who has overcome huge sporting and life hurdles, the whole country loves Eddie. I'm sure that he'll enjoy meeting like-minded people who, like him are pushing the boundaries in pursuit of their dreams. Although not a biker, throughout his sporting career Eddie had his fair share of spectacular crashes and has undergone extensive surgery. It's heart-warming that he's coming to support our fundraising event which provides a vital lifesaving service to the NHS'.
Prescott Bike Festival prides itself on its diversity and celebrates engineering excellence; from rare, classic, modern, customised to hand built bikes and those of historic significance, this year the organisers have secured the most diverse motorcycles yet.
Crowd pleaser Matt McKeowen will be returning with the World's fastest shopping trolley powered by a Chinook helicopter engine (holds record speed of 70.4mph/ 113.298kmh), plus his latest project, the World's Fastest jet powered Hearse called 'Dead Quick'. Kevin Scott brings his bonkers record-breaking Monowheel, which earned a place in the Guinness World Records along with fellow Monowheel engineer Tom 'The Atom' Anable.
Iconic motorcycle builder Allen Millyard will take to the hill on the award-winning Flying Millyard motorcycle (powered by a 5-litre V-twin aero engine) and returns with no less than eight of his amazing creations – all of which will be in action.
Bike Fest's excellent showcase of Paddock Specials include over 100 examples of rare machinery where you can meet the owners, watch them fire up and see them run. From David Jefferies 2002 hand-built 570cc Vertemati Supermoto race bike, an original Joey Dunlop TT race bike, James Toseland's 1998 Honda CBR600 World Supersport Bike, through to a 1914 Triumph LX126 one of only eight in the world which also participated in the very first London to Brighton pioneer run to David Hailwood, son of TT legend Mike 'the bike' Hailwood with his legendary fathers 1966/'67 500cc Honda RC181.
There's plenty of attractions off-track to keep the whole family entertained too. You can take a thrilling passenger ride in anything from a Formula Two or Watsonian Squire Sidecar to a Morgan Three Wheeler, watch the jaw-dropping 'On the Edge' Trials Stunt Show, and hear the ever popular George Formby tribute act from the motorcycle film, No Limit? The Orchard main stage will host several Rock n Roll and rockabilly bands and dancers throughout the day and over 100 quality trade exhibitors.
Plus NEW for 2017 - An Ettore Bugatti's 'Motocyclette perfectionnée'. The Bugatti Trust new exhibition is dedicated to the Bugatti family's exploration of bike and motorcycle design and engineering. Exhibits range from Carlo Bugatti's 19th century bicycle design to Ettore Bugatti's type 72 single cylinder 10 ½ cc cycle motor engine he created in the 1940s. The Bugatti Trust will be open from 11am till 3pm on the Sunday of the Bike Festival free and is free of charge to all Festival goers.
Prescott Bike Festival 2017
Motorcycle parking free, plus motorcycle side stand puck and Helmet Park.
All proceeds go to the Nationwide Association of Blood Bikes and regional blood bike group Severn Freewheelers, one of 27 blood bike groups around the UK that provide a free out-of-hours courier service for medical essentials.
Book in advance to save £2 over the on-the-gate price, adult admission only £13, while under-16s go free. For tickets and more information, visit: www.prescottbikefestival.co.uk



About Blood Bikes and Severn Freewheelers:
Severn Freewheelers the local branch of Blood Bikes celebrate their tenth anniversary of operating in the county. Founded in 2007 the motorcycle based charity, provides a free delivery service to hospitals and medical centres throughout the county; moving vital medical supplies, blood and pathology samples as well as transporting frozen human milk from the donor to the milk processing banks. This has been a real lifesaver due to the necessity of very premature babies having intolerance to anything but human milk. The bikers selflessly give their free time in all winds and weathers to help save lives throughout the country.
Severn Freewheelers is a life-saving service run entirely by volunteers and it part of the Nationwide Association of Blood Bikes. All riders are trained in the movement of medical essentials and have one common goal – to alleviate suffering and reduce the funding pressures on the NHS.
Severn Freewheelers deal with around 300 calls per month locally and rely solely on fundraising to operate, please find below some facts/details on how they support the NHS throughout Gloucestershire, Hereford and Worcestershire and North Wiltshire.
www.prescottbikefestival.co.uk