6 Weeks Until the Manchester Bike Show 2017
Posted on
Your weekly update about the Manchester Bike Show, brought to you from the team at Instantfocus Ltd...

Steve "Stunt Man" Colley
Steve was a big hit when he was with us at our very first Manchester Bike Show at EventCity in 2012. Our policy has always been to rotate the stunt displays each year to keep this part of the event fresh but Steve was so good when we used him for the first show we thought it was time to bring him over from the Isle of Man for a return visit. The last time we spoke Steve was talking about winding down although when I contacted him recently he was doing a series of shows in France so it looks like his idea of winding down is going about as well as mine.
Les Clayton
Our man with the microphone, Les Clayton is just back from 6 weeks in New Zealand and will be bringing together the events on the main stage which will be situated in the catering area at the top of Hall 3.
Advance tickets
Advance tickets continue to sell incredibly well, and are holding steady at 95% up on the same time last year, so we are confident of a record attendance at this year's event.
Exhibitors List
The exhibitors list is now up on the website and shows 46 clubs who have already confirmed their stands bringing 575 display bikes, along with 35 private entries and exactly 100 trade exhibitors.
Clubs
This week we have welcomed the Warrington Motorcycle Club who have booked two stands, the Ducati Owners Club who have booked four stands and are attending EventCity in preference to the show they usually attend in April.

Representing the off-road fraternity are the Manchester Trail Riders and Brian Gray Powerbiking who are bringing the two sidecar outfits that created so much interest last year in the ACU section.

Previous club display winners, the Manchester Lyons Scooter Club, will be with us once again and, just to top off this eclectic mix of clubs, the Bimota Forum have over 30 display bikes due to attend and we have moved them from a four stand block to stand 300 on the plan in order to accommodate all their bikes.
Private Enthusiasts
Eight or so cracking bikes booked in this week including a previous bike of show winner, the Honda CBX belonging to Martin Bevan from Newbury, Berkshire.

Steven Hughes from Cannock is bringing his amazing custom-painted Honda Goldwing and trailer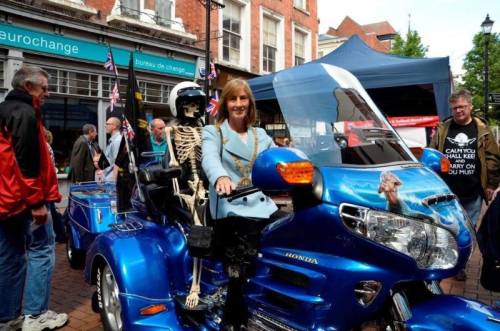 and we are delighted to welcome Terry Seagraves who is bringing a 1977 Yamaha RD 700 Kenny Roberts Replica along with a Suzuki GT250 of the same Vintage in showroom condition.
We are about 60% of the way there with 35 private entries booked in so far so again get your space booked with us.
Trade Exhibitors
Always an excellent sign when we hit the 100 individual trade exhibitors with a good eclectic mix of large and small companies. Trade exhibitors who have confirmed this week include LCW wholesale on stands 560 & 561, Hunter Class will be coming up from London on stands 351 & 352, Bike Seal who were very popular with the public at the recent Trade Expo at Stoneleigh and at the NEC in November will be on site 404 just inside the main entrance.

Advanced Nano Coating (Hybrid X) will be up near the stunt show on 513 and in the same section Steve Brown with his classic motorcycle manuals will be on 549. It is also good to welcome back Steve Batley of Light Commercials who I see at all the shows but the last time they traded with us was at Donington Park over 10 years ago. Many more hovering in the wings, including a couple of big names, so more to follow next week.
So there we are, adverts gone off this week to MCN and 100% Biker. I have just received an email inviting us to put digital adverts around the Trafford Centre in addition to the ones we place on the big screen so we will see what becomes of these. I also had a meeting at EventCity yesterday with a potential headline sponsor and hope to confirm in next week's newsletter. On the way into the building from the car park I was talking to a builder from Liverpool who was there to attend the Screwfix Trade Show. I thought it was all a bit quiet in the car park for a show going on and sure enough the show was due to take place on 9th March not 9th February, please don't make the same mistake with us! We are looking forward to seeing what next week brings as the event moves closer still.
Andrew Greenwood
#MancBikeShow
MANCHESTER BIKE SHOW
SATURDAY 25TH & SUNDAY 26TH MARCH
9:30AM-5:00PM
EVENTCITY