Mika Perez, the year of a great champion
Posted on
Mika Perez is the winner of the 2016 Wil Sport European Junior Cup, powered by Honda. With a fourth place finish in today's second race of the double-header season finale at Jerez, the recently turned 17-year-old from Altea, a town located on the south eastern coast of Spain near Alicante, sealed the ultimate prize of what is the last-ever edition of the series.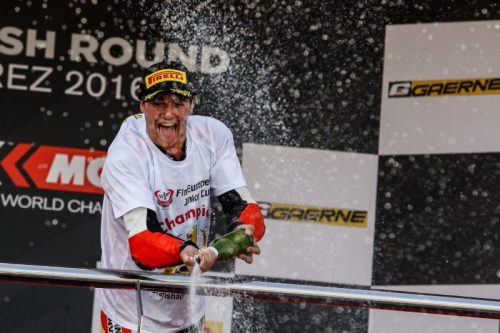 After racing minibikes in the Valencian Championship in 2007 at the age of eight, Perez quickly rose through the ranks and by 2012 he had already won the national 'Cuna de Campeones' MiniGP140 title. In 2013, he made a one-off appearance in the European Junior Cup as a wildcard lined up by Honda Spain. The following year, Perez impressed many by finishing sixth in his first full EJC season, which was followed by a difficult second campaign in the championship.
In 2016, Perez has been a master of consistency as he claimed one win, three second places and one third in the first six races. After a first missed title point in Magny-Cours a fortnight ago, when he was fourth at the chequered flag, Mika entered the Jerez double-header with a 25-point advantage over Paolo Grassia.
The Italian got the better of him in race one to take another five points away from his lead, but in race two Perez smartly managed the championship situation to cross the line fourth a result that rewarded him with the final victory.
Perez can now enjoy his well deserved EJC Championship success before embarking on the next step of his motorcycle-racing career.
Name: Mika Perez
2016 Racing number: 8
Birthdate: 05/10/1999
Birthplace: Altea (Spain)
2016 Wil Sport European Junior Cup, powered by Honda – 1st – 1 win, 1 pole position, 4 seconds, 2 thirds
2015 Pata European Junior Cup, powered by Honda – 18th
2014 Pata European Junior Cup, powered by Honda – 6th – 1 podium
2013 Pata European Junior Cup, powered by Honda – 1 race