John McGuinness receives prestigious honorary BRDC membership
Posted on
John McGuinness received the prestigious award of honorary membership of the BRDC Annual Award Ceremony at the Grand Connaught in London last week.

Honorary membership of the BRDC is only by invitation of the Directors and John is only the second motorcycle racer ever to have been offered membership purely on his achievements on two wheels after Valentino Rossi in 2015. There are others within the Club who are known for their success on two wheels but all of these have qualified for membership from their four wheel achievements.

Many awards were given out on the evening, recognising outstanding achievements and individuals during the Motorsport year, but one of the undoubted highlights of the evening was when John McGuinness was awarded an honorary membership of the prestigious association at the end of the evening.

The 23 time TT Race winner, the Isle of Man's 'King of the Mountain', is only the second ever motorcyclist to win the award. The only other two-wheeled racer to win that honour in history is nine time world champion Valentino Ross. Recently retired F1 champion Nico Rosberg was also in attendance and won the trophy for the fastest lap of the season at Silverstone.

"Wow, wasn't expecting this at all, but great surprise. Super proud and humbled. Thank you," said McGuinness on picking up the award.

The British Racing Drivers' Club is, arguably, the most exclusive club in motor racing. With a membership that numbers only 850, it is home to the most successful racing drivers from Great Britain and the Commonwealth. Those who have met the exacting entry criteria have achieved at the highest levels of the sport, or made a significant contribution to enable others to do so.

Membership of the BRDC is highly sought after and extremely difficult to achieve. The list of Members, past and present, reads like a 'Who's Who' of motor sport.

Fellow BRDC Members Ed Jones, Alexander Albon, George Russell and Jann Mardenborough were also honoured with BRDC awards having, achieved notable success this year in single seater championships worldwide. Sir Stirling Moss OBE and Lady Moss, Damon Hill OBE, Nigel Mansell CBE, Sir Chris Hoy MBE and 2017 Renault Sport Formula One Team driver Jolyon Palmer joined over 300 guests to celebrate at this exclusive event, which also supported the BRDC Benevolent Fund.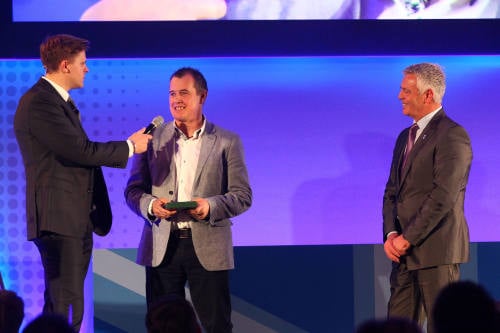 The full list of 2016 BRDC Annual Awards winners is:

The John Cooper Trophy – Lance Stroll
The Spencer Charrington Trophy – George Russell
The Richard Seaman Trophy – Jann Mardenborough
The Nigel Moores Trophy – Tom Ferrier (TF Sport)
The Fairfield Trophy – Oliver Gavin
The ACO Plate – Mike Conway
The Silverstone–Le Mans Challenge – Porsche: Romain Dumas, Neel Jani & Marc Lieb
The Earl Howe Trophy – Ed Jones
The John Cobb Memorial Trophy – Simon Dolan & Harry Tincknell
The Woolf Barnato Trophy – Strakka Racing:
(Nick Leventis, Jonny Kane & Danny Watts)
The Colin Chapman Trophy – Darren Turner
The ERA Club Trophy – Rob Bell
The Innes Ireland Trophy – Josef Newgarden
The Henry Surtees Award – Lando Norris
The Sir Jackie Stewart Award – Paddy Lowe
The Bruce McLaren Trophy – Daniel Ricciardo
The Jim Clark Trophy – Matheus Leist
The Chris Bristow Trophy – Lando Norris
The Graham Hill Trophy – Alexander Albon
The Johnny Wakefield Trophy – Nico Rosberg
BRDC Silver Star – Colin Turkington
BRDC Gold Star – Lewis Hamilton MBE