Toy runs this weekend...
Posted on
10th December 2016
Three Amigo's Annual Toy Run
In aid of the local Childrens ward and disabled children in the care of the local NCH. Bring a toy or chuck a few bob in the bucket. Presents should be unwrapped and new. 13:00 departure.
venue: Meet @ 12:00 from The Commons Car Park, Pembroke, South West Wales, SA71 4EA
tel: 07515 631 554
facebook


11th December 2016
Roughleys Toy Run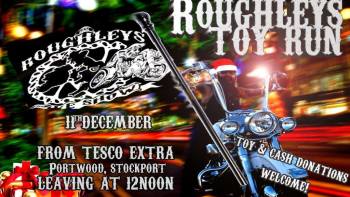 Bring some cheer to those children who are less fortunate than us by bringing a toy to give to them. We will be leaving Tesco's in Stockport at 12 prompt, proceeding to The Rainbow Family Trust in Didsbury then onto The Together Trust in Cheadle, learner friendly route. If you could mark the gifts with either Male/Female, approx age (don't forget there are teenagers in these establishments) that would help so much.
venue: Stockport Tesco, (near Manchester) Tiviot Way, Portwood, Stockport, Cheshire, SK1 2BT
price: Cash donations are welcome
website
facebook
12th December 2016
2 Wheels in Unison
Annual charity ride to the local hospital children ward. Ride starts at 12.30, returning to The Woodlands by 2pm for refreshments. Also a band on in the evening.
venue: The Woodlands Hotel, 362 Liverpool Rd, Warrington, Cheshire, WA5 1RU
price: Please bring a new unwrapped toy or a donation to the baby unit.
tel: 07851 810060
website: www.taliesinbrotherhood.co.uk
facebook
e-mail: [email protected]
11th December 2016
Toy Run - Ace Cafe
The cafe's annual Christmas Toy Run into central London departs at 11am on Sunday 11th December to attend the children's wards of three hospitals:
St Mary's (Paddington) 11.45am - 12.15pm
Royal Brompton (Chelsea) 1pm - 1.30pm
Evelina Children's Hospital (Westminster) 2pm - 2.30pm
As always, any surplus gifts will be distributed to various children's homes and groups. Please bring gifts that are wrapped and labelled Boy/Girl/Age Group. Because of allergies hospitals advise against stuffed toys and sweets - the nursing staff however may appreciate some sweeties!
On returning to the cafe, there will be prizes for the 'Best Dressed Bike' and the 'Best Dressed Rider' - and a hot cuppa!
venue: Ace Cafe, Ace Corner, North Circular Road, Stonebridge, London, NW10 7UD
tel: 020 8961 1000
website: www.ace-cafe-london.com - www.acecafeevents.com
facebook
e-mail: [email protected]
11th December 2016
Cambridge Bikers Christmas Toy Run

Join lots of other Bikers in a truly spectacular ride to Addenbrookes Hospital taking gifts and toys to those in hospital over the festive period. Previous years have seen three miles of bikers riding into Cambridge with many dressed in costume. Meet at 9am ready to ride at 9.45am. Bacon rolls, tea and coffee should be on offer again. There may be a one way system in place this year to make exiting a little easier.
venue: La Pergola, Cambridge Road, Harlton, Cambridgeshire, CB23 1HA. A603 outside Cambridge.
price: Just bring a toy or gift for someone in hospital. One gift per rider or pillion.
facebook
facebbok event
e-mail: [email protected]